"It was an amazing result," he said. "There was talk in the market that the market plateau a bit, but at the upper end of Albert Park and Middle Park it's as strong as I've ever seen it."
Last week, a Middle Park family home sold for $ 9.8 million, while two Albert Park homes in recent weeks brought in more than $ 11 million each.
While Albert Park sales were going through the roof, in West Footscray, buyers were not suffering from the same fear of missing out on something when a three-bedroom house went in for a $ 1.2 million bid.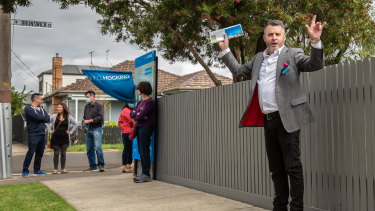 The home, at 38 Wellington Street, had a price guide of $ 1.2 million to $ 1.25 million and so only two bidders raised their hands, with the highest bid, before the seller's, being $ 1.175 million.
Greg Hocking Footscray auctioneer Darren Dean said additional shares coming to market, mixed with the upcoming Christmas break, had seen fewer buyers looking for their next home.
"We have been flooded in the last 30 days, there has been a massive influx of houses for sale in [Maribyrnong] municipality, "said Mr. Dean." I have never seen this volume in my career. "
Additional stocks had "marginally invaded" the market, giving buyers more choice and eliminating the fear of missing something, he said.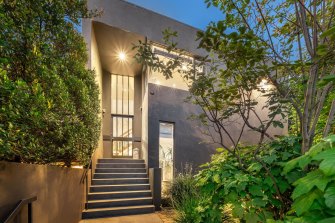 Although the house went in, it was expected to be sold by the end of the day, with negotiations with one of the interested parties underway at the time of writing.
It was a similar story in Toorak, where a three-bedroom house at 136a Kooyong Road passed by after failing to meet the $ 2.9 million reserve.
Kay & Burton South Yarra director Damon Krongold said negotiations were underway with an interested buyer and that he expected it to be sold within the next two days.
The home, which had been owned by the sellers for a remarkable 51 years, offered more affordable access to the expensive suburb, he said.
Sir. Krongold believed the market was showing signs of fatigue, with buyers now seeking to go on holiday instead of buying a property.
"We've seen a little bit more come on the market when we came out of the lockdown, and that has also affected things," he said.
In the suburb of Brighton Bay, a five-bedroom home on 3 Harwood Street, Brighton also made a bid of $ 4.61 million despite three bidders raising their hands.
Marshall White Bayside partner Ben Vieth said negotiations were underway and the property is also expected to be sold in the next few days.
Sir. Vieth said the number of buyers had fallen compared to two months ago, when the supplier's expectations have not yet been adjusted as more shares enter the market.
"There's always a problem when there's more stock," he said. "I think suppliers' expectations are just beyond the market at the moment."
Near Brighton, Hampton, a two-bedroom house owned by the same family since 1945 came on the market and sold for $ 2,060,000, over the $ 1.8-1.9 million price guide.
The buyer of the predominantly original home on 2 Field Street had not told his wife he was bidding and planned to bring the news by posting a picture of himself in front of the sticker sold, Belle Property Sandringhams Andrew Solomon said.
The buyer now plans to tear down the original house and build his eternal home. He was one of three bidders at the sale.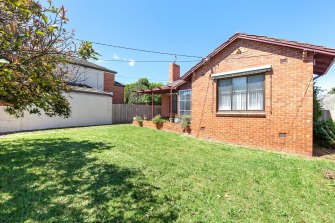 "It was an absolutely fantastic day for that," Mr Solomon said. "It's nice to be able to pass this home on from one family to another."
Likewise, Elwood sold a home that had been owned for decades at 8 Thackeray Street, well above expectations. Buyer plans to renovate the home, built in 1921 and still in original condition.
The three-bedroom house, part of an estate, was sold for $ 2.115 million, over the $ 1.5-1.65 million price guide.
Belle Property Brighton's sales agent Fabrizio Cutrona said the auction was held in front of a large crowd. Unlike other parts of Melbourne, sales were still strong.
"At the moment, the market here is still very strong and many people are looking for homes to renovate," Mr Cutrona said.
---
The Morning Edition newsletter is our guide to today's most important and interesting stories, analyzes and insights. sign up here.