Travelers to WA from Victoria, NSW and ACT must be fully vaccinated against COVID-19, the WA government announced Saturday.
The new requirement, which starts on November 5, will not apply to jurisdictions classified by WA as very low risk: Queensland, Northern Territory, South Australia and Tasmania.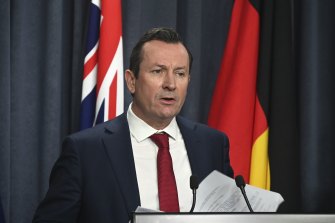 In addition to receiving two vaccinations, visitors from Victoria and NSW, who are classified as extreme risk, must still remain in hotel quarantine for 14 days.
Arrivals from ACT can self-quarantine in an appropriate place, as the territory is considered a medium risk.
The need for approval to enter WA from Victoria, NSW and ACT is unchanged.
WA Premier Mark McGowan said the Delta variant had increased portability and been central to outbreaks in NSW, Victoria and ACT.
"These travel conditions will better protect WA and can be implemented under WA's controlled border schemes," McGowan said.
"Once we get our vaccination rate up, we have to stay careful and vigilant and take everything
caution".
Health Minister Roger Cook said the new requirement was based on health advice.
"With the vaccines readily available to people across the country, it means people have
had sufficient time and opportunity to be fully vaccinated before leaving, "Mr Cook said.
Travelers under the age of 12 or with a recognized medical condition are exempt.