The promotion is a tad bizarre, but it's also in keeping with an out-of-the-batter's box line of thinking from baseball promotional departments.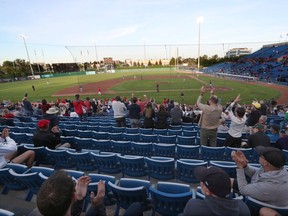 Article content
The history of goofball baseball theme nights has given us everything from Disco Demolition Night to Pre-Planned Funeral Night.
Article content
Now along comes Karen Night.
The Ottawa Titans of the Frontier League are bringing their own off-the-wall exercise Thursday (6:30 p.m.) against the Sussex County Miners, asking fans to unleash some of their inner anger.
A Karen, for those who haven't seen the rampages online, is a reference to the widespread meme of a middle-aged person of privilege who rails against minor issues, often targeting service industry workers or demanding to talk to a manager.
Article content
In one sense, the promotion is a tad bizarre, but it's also in keeping with an out-of-the-batter's box line of thinking from baseball promotional departments.
"The whole point is to have fun," said Titans general manager Martin Boyce. "We've had some more standard theme nights, like Country Night, but we also did some brainstorming before the season and thought, 'Why not have a Karen Night?' We want to celebrate the fact that sometimes people want to take on the manager and that sometimes people get frustrated standing in lines."
Article content
Fans with a Karen in their name will be offered a buy one/get one free ticket if they purchase in advance.
A dunk tank will be set up, allowing spectators to take out their frustrations at Titans employees dressed as "managers" — including Boyce — by throwing baseballs.
The Titans are asking those in attendance to dress up in their favourite Karen costume to earn prizes. If there's enough demand, there will also be a Karen Parade.
"We don't really know what the best Karen will look like," Boyce said with a laugh.
It's all meant to be light-hearted and there's still some last-minute planning going on, including a musical playlist in keeping with the tone of the night.
"What that might sound like? Maybe music that people in their 40s and 50s might enjoy," said Boyce.
Article content
Like all promotions, it's a gamble and the Titans have no idea how the idea will land with the community.
"When we initially put it out on Twitter, it kind of blew up, the biggest response we've had to anything in a long time, but a lot of that noise was from outside of Ottawa," said the Titans general manager. "Maybe it will help get some people to know that we exist. A lot of people don't even know there's a (professional) baseball team or stadium here."
On the diamond, the Titans are doing their part in fielding a competitive squad in their first season in the Frontier League.
They went into Wednesday's game against Sussex County with a 23-8 record, leading the East Division.
A.J. Wright ranks second in league batting with a .373 average, while Jacob Sanford ranks fourth in home runs (nine) and RBI (33).
Article content
Pitcher Chris Burica leads the Frontier League with an ERA of 2.09.
Winning always helps, of course, but Thursday's promotion could draw out a crowd that is as interested in the theme of the night as the game itself.
Boyce has long been a fan of teams that take a chance on the unusual, bringing some humour to the park.
"Sometimes (theme nights) are so successful because they're so bad," joked Boyce.
Of course, there have been some well-intentioned efforts that have gone off the rails in the past.
— In 1979, the Chicago White Sox hosted the infamous Disco Demolition Night, encouraging fans to bring disco memorabilia. The idea was for all of it to be destroyed at Comiskey Park. Apparently, no one realized that records could also serve as flying discs. When a disco inferno of frisbees hit the field, the game was stopped for safety reasons.
Article content
— The Cleveland Indians promoted a can't miss shot at drawing fans in 1974, offering up a 10 Cent Beer Night. The spectators did come, but that was followed by fights in the stands, a naked fan running the bases and another spectator who took the cap off the head of outfielder Jeff Burroughs.
— Poor Boston Red Sox pitcher Derek Lowe. In 2002, Boston handed out posters of Lowe, but when he struggled in the game, the posters were tossed back on the field, delaying action for 15 minutes. Following the game, other fans set their posters on fire.
— In 2003, the minor-league Hagerstown Suns raised eyebrows, and the "ew" factor, with their Pre-Planned Funeral Night. One (un)lucky fan was left with something to look forward to — a funeral package worth $6,500.
Article content
— Three years later, the West Michigan Whitecaps dropped $1,000 in single bills from a helicopter onto the field, asking children to race to pick up the money. After the bill collection was complete, a pair of seven-year-olds went to the hospital after being involved in the dollar drop.
The Karen Night shouldn't present any such problems and the Titans have another unique promotion set for later in the season.
On Aug. 24, the Titans will host Pluto Reinstatement Night. It will be a space-themed occasion, with fans being asked to sign a petition that will be sent to NASA, pleading that Pluto regain its status as a full-fledged planet. In 2006, Pluto was officially demoted, becoming a "dwarf" planet.
"Why not honour the forgotten planet?" said Boyce. "We're still refining it, but we'll be doing some things with kids. In the future, we plan on making these theme nights way more common."
kwarren@postmedia.com
Twitter.com/Citizenkwarren