Registrations opened at the beginning of May, which means anyone considering to run for a council seat hasn't capitalized on three months of fundraising time.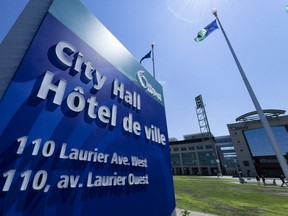 Article content
Imagine a municipal election where five councillors, or 20 per cent of the new council, went unchallenged and waltzed back to city council seats without a campaign fight.
Article content
That's a dream scenario for incumbent candidates who aren't facing contests.
They'll be watching the election registration list to see if they have to run campaigns. If the clock strikes 2 p.m. on Aug. 19 with no one else running in their wards, they automatically keep their jobs for four years.
On Friday, the lack of candidates in some City of Ottawa wards was glaring with the 2022 nomination cutoff approaching.
So, where are all the candidates?
Remember when 17 people signed up to battle in Orléans ward in 2018?
The 2018 Orléans winner, Coun. Matthew Luloff, was the only one on the 2022 municipal election ballot in the redrawn Orléans East-Cumberland ward as of Friday.
Other incumbents who were the only ones signed up in their wards as of Friday included Riley Brockington in River, Laura Dudas in Orléans-Innes, Rawlson King in Rideau-Rockcliffe and Tim Tierney in Beacon Hill-Cyrville.
Article content
Even some wards without incumbents had few candidates.
Alta Vista ward will get a new councillor with Jean Cloutier's departure from politics, but only two candidates were signed up as of Friday. Longtime councillor Diane Deans isn't running for re-election in Gloucester-Southgate, but only three candidates had signed up to challenge for the seat.
Newly created Riverside South-Findlay Creek ward, which doesn't have an incumbent, had two candidates registered.
The last time a council seat was up for grabs in a vote was the 2020 byelection in Cumberland ward. Coun. Catherine Kitts won in a field of 10 candidates. As of Friday, Kitts was one of only two candidates in the new Orléans South-Navan riding.
Some ward races do have more than a few candidates, like Knoxdale-Merivale with six as of Friday. The mayor's race had 11.
Article content
Some ward races in 2018 also had few candidates: five wards with only two each. No one was acclaimed.
Candidates can't collect contributions or spend money on campaigns until they have registered to run. Registrations opened at the beginning of May, which means anyone considering to run for an Ottawa council seat hasn't capitalized on three months of fundraising time.
One factor turning off potential hopefuls might be the drama on council, particularly in the current term. Political and personal divisions have run deep and in-fighting has been on public display. Council isn't doing a great job marketing those jobs to anyone kicking around the idea of being a local politician.
Another complicating factor is the ongoing COVID-19 pandemic. It's unclear how city hall will operate administratively as it juggles public-health requirements.
Article content
West Carleton-March Coun. Eli El-Chantiry, who's not seeking re-election, said recently that the loss of face-to-face interaction with at city hall colleagues had contributed to the lack of cohesion on council.
In another interview about the province's "strong mayor" idea, veteran councillor Jan Harder, who's not seeking re-election in Barrhaven, said the recent term had been the worst for city-building in her political career.
When she announced her imminent departure from municipal politics, Gloucester-South Nepean Coun. Carol Anne Meehan talked about how running for office took a big commitment. She said candidates had to fundraise for campaigns and be ready to take criticism.
Still, there are candidates who, after weighing pros and cons, have decided it's the right time to run for seats on council.
Article content
Bina Shah, a science and math teacher running in Kanata South, applied to fill the Kanata North vacancy last year through the appointment process. She received two votes from council and used it as a motivator to keep pursuing political office.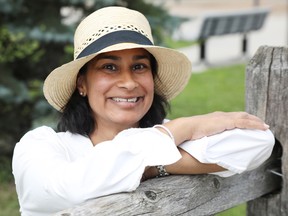 Shah said she knew the divisive nature of politics wasn't easy, but said she was willing to take on the challenge of bringing council closer together.
When it comes to social media, Shah said, "the world has more good than bad" and she believes she has a thick skin to absorb the knocks.
"I'm a person of colour, I'm a female, and I'm part of the queer community, so I know I do have an X over my head," Shah said. "But I do also know standing up and fighting for what you believe in outweighs the hate, and it comes down to having a supportive network of friends and family that you can rely upon."
Article content
Campaigning can be a wildly new experience for candidates needing to knock on thousands of doors to meet voters.
So far, Shah has had positive reactions, except one evening when a father, who indicated he had COVID-19, became verbally abusive when she apparently interrupted his children's bedtime routine. After Shah said she was sorry and moved on to other houses, the man came out and apologized to her.
"People are having hard times, and I just think, 'Don't take it personally,'" Shah said.
Online feedback can be vicious, but it's hard for candidates to ignore social media when it's also a critical promotion tool. After candidates are elected, they must decide how much of a social media presence they can handle.
Article content
When Mayor Jim Watson announced in December that he wouldn't seek re-election, he talked about how difficult it was to be a politician in the age of social media because of the "corrosive" comments.
Tyler Cybulski, a candidate in Rideau-Vanier ward, recently announced he was turning off the ability for people to comment on his social media posts after seeing those pages become "an outlet for bullying and harassment."
Cybulski said he had watched councillors and election candidates "vilify" others who didn't share the same positions.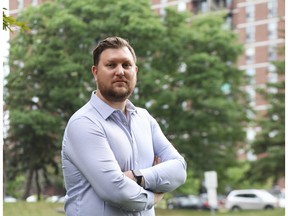 "We need diverse opinions, we need diverse ideas, and what you're seeing now, and certainly what I've experienced online, is that diversity isn't wanted," Cybulski said. "They're only looking for one group of candidates with the same policy prescriptions for the issues."
Article content
Running in a ward that has historically sent Liberal candidates to provincial and federal governments, Cybulski said, "as a pretty open conservative, I knew what I was getting into when I came into the race."
He expected some negativity, but "I wasn't expecting the ugliness that I've seen, not only in my campaigns, but in other campaigns around the city.
"I've been urging (potential candidates) to take time and really assess if this is for you and something you want to pursue," Cybulski said. "I support anyone who wants to run. I think it's a great thing to put your hat in the ring and put yourself out there and present your ideas to an entire ward of people, but, unfortunately, it's a lot tougher now than it used to be with the political climate the way it is and how people go about their attacks."
Article content
Taayo Simmonds said that being a lawyer, with other litigators regularly attacking his viewpoints as part of the legal process, had helped him grow a thick skin for the adversarial parts of politics.
Municipal issues like the ongoing LRT saga and last winter's trucker convoy occupation, on top of an interest in seeing new blood around the council table, drove Simmonds to seek the council seat for Barrhaven West.
The job of city councillor can be time-consuming, with meetings during the day and public consultations regularly scheduled at night.
Simmonds, a father of two, said his young family factored weighed heavily in his reflections about running for council. There was also the matter of balancing competing demands during the long election campaign while continuing to oversee his law practice.
Article content
"It's been a lot," Simmonds said. "During the evenings, during the weekends, whenever, I'm trying to catch up on work. There's a lot of late nights when I'm sending out emails and things like that."
Simmonds said it was worth the toil if he was able to convince voters to send him to city hall on Oct. 24.
Gloucester-Southgate ward candidate John Redins enters the 2022 municipal election as potentially the city's most seasoned political hopeful. This will be his third municipal election as a candidate. He has also run three times provincially and once federally.
"Politics is a really tough game to be in," Redins said. "What we've been through the last three years with COVID, the protest downtown, it shows that it can be ugly."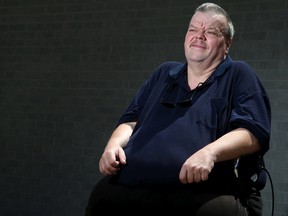 Redins, an advocate for accessibility and transit issues who often makes deputations at city meetings, said the political climate required candidates to absorb blunt, and often crude, criticism.
"You really have to have a hard, hard stomach to take what's going on," Redins said, but he's encouraging people considering runs for office to speak up and enter the political fray.
"If you have a voice," Redins said, "then use it."
jwilling@postmedia.com