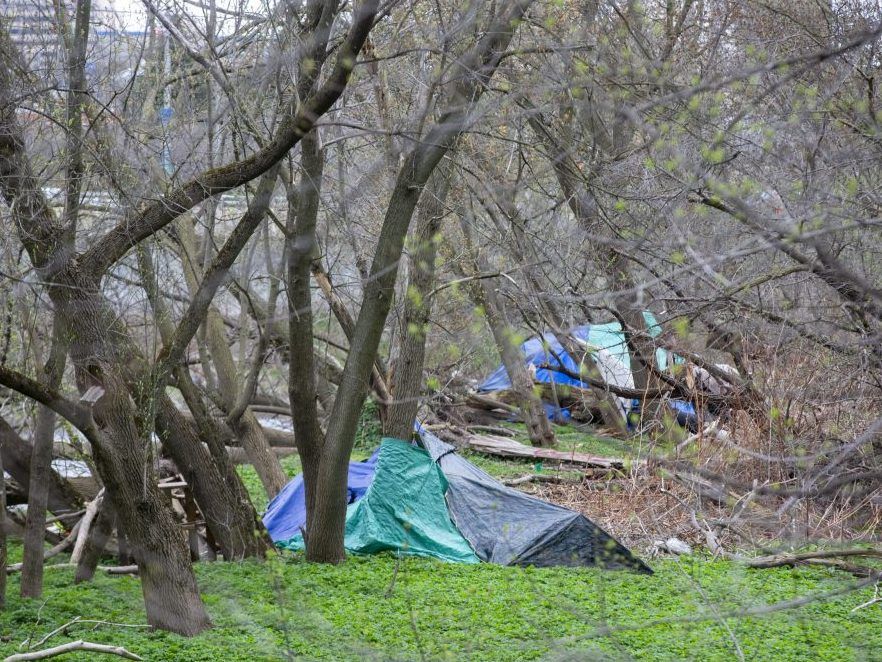 A London coalition of angry and frustrated front-line workers is vowing to stage a hunger strike if city hall doesn't agree to change how it's helping homeless people.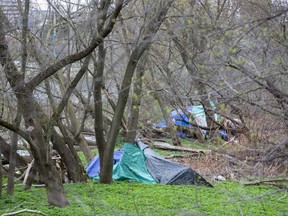 Article content
A London coalition of angry and frustrated front-line workers is vowing to stage a hunger strike if city hall doesn't agree to change how it's helping homeless people.
Article content
"We are at a point where the community and those who serve them cannot withstand more deaths," coalition member Dr. Andrea Sereda said Monday.
"We are at a point where we see no movement for additional services and support for the community of people who are living with homelessness. We wait year after year for promises of services to emerge and they do not. We need to change things for people living on the street."
The city must stop moving homeless people from their encampments, change the approach of city hall's core response unit and immediately create two indoor places to provide 24/7 support and safety, says the coalition, formed a few weeks ago and calling itself #TheForgotten519.
If the city doesn't agree to the demands, one member of the group will begin a hunger strike at 9 a.m., Aug. 2, the group said in a statement released Monday morning.
Article content
The demands come in the wake of rising deaths of homeless people and burnout by front-line workers, says the group, whose organizing committee includes Sereda, a physician at London InterCommunity Health Centre, Leticia Mizon of the Ontario Network of People Who Use Drugs (ONPUD), outreach worker Daniel Oudshoorn and Jenna Rose Sands, director of SafeSpace London.
"The number of people we are supporting who are dying premature and preventable deaths continually rises while safe, dignified, and genuinely supportive spaces continually become scarcer," the coalition's news release said.
"The number of front-line workers leaving this field of work due to the overwhelming nature of the grief, trauma and loss they experience, the deaths they witness and the moral injury they experience is vastly higher than it has been at any other time in recent memory."
Article content
#TheForgotten519 is a coalition of outreach workers, medical professionals, advocates and people who have experience with poverty and homelessness, the news release states.
The coalition has about 50 members, but many are unwilling to have their names published because their employment depends on city-funded programs, Sereda added in an interview.
Last year's death toll reached at least 74 people experiencing homelessness, up from 59 the year before, the coalition noted.
So far this year, at least 34 people experiencing homelessness have died, and "given that we are not aware of everyone who died in recent years, the actual number of deaths is likely significantly higher," the statement from #TheForgotten519 said.
Article content
The deaths, including the recent one of a woman found in the Thames River, are preventable, the group said.
"The deaths we are seeing on the street are directly related to the absence of safe and appropriate housing and the absence of safe and appropriate emergency daytime and nighttime shelter and care," the coalition said.
"For those who remain alive, day-to-day life is an ongoing struggle for survival without enough to eat, without a safe place to sleep, without access to bathrooms or showers or the recognition of their human dignity. Those who remain alive grow sicker daily."
Making matters worse are the city hall-directed "sweeps" that remove people from city parks, along the Thames River parkway and in empty lots or derelict properties, the coalition said.
Article content
"Sweeps that push people further away from each other — forcefully removed from the little bit of community spaces they had — kill," Mizon said in the news release. "We cannot take one more death due to displacement, lack of support or political heel-dragging. We have been saying this all along; it's time we are heard."
City hall officials said Monday afternoon they've reached out to #TheForgotten519 in hopes of discussing their demands.
"We want to sit down . . . to really get to the crux of the issue," said Kevin Dickins, deputy city manager in charge of housing. "Hopefully that yields some productive outcomes and some productive conversations."
City hall doesn't tear down all encampments, and the goal is generally to keep them from getting large and dangerous, Dickins said.
Article content
"When they become large and entrenched, it often does lead to an increase in violence," he said. "We also though deeply appreciate the concern being expressed here. We don't disagree. We do need more efforts around where people can go that are safe, that are housing."
Smaller groupings, like when a few people opt to stay together for community and protection, are often allowed to stay if the site is safe and litter picked up, Dickins said.
Finding the space and staff to launch two round-the-clock drop-in centres is a challenge, Dickins said, citing the coalition's point about increasing burnout of front-line workers and a shortage of employees to operate existing social programs.
"What we're really talking about is very high-acuity individuals with very challenging health needs. That need is greatly outpacing what's available in the community," he said.
Article content
Dickins said there are daytime drop-in programs available, from coffee house hours to crisis beds and a new hub for a group of social services opening at 602 Queens Ave.
The city's co-ordinated response team does focus on making sure people are safe, and provide what they need at that moment, he said
"We really need to approach it from a place of compassion, which we really feel we've been able to do. This is something that's been up and running for years."
rrichmond@postmedia.com
mstacey@postmedia.com
---
Demands of #TheForgotten519
Immediate stop to the removal of encampments, tents or campsites in city parks, along the Thames Valley Parkway, and in empty city lots, or lots that have been left to fall into disrepair by the property owners.
Immediate transition of city hall's co-ordinated informed response (CIR) team from a displacement model to a team that offers meaningful support to campers at their campsites.
Immediate creation of two indoor spaces (one in the core, one in the east end) that provide 24/7 support to people without housing and shelter, or who simply need a safe place to be.