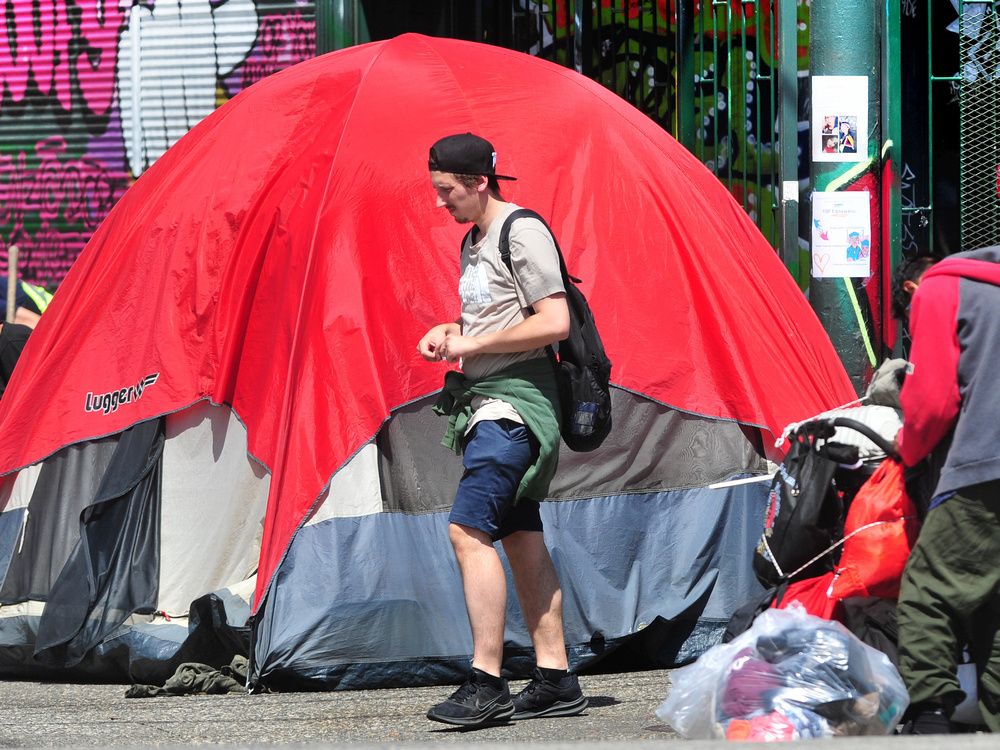 Business groups are calling upon the City of Vancouver to quickly enact a supportive housing solution away from the DTES.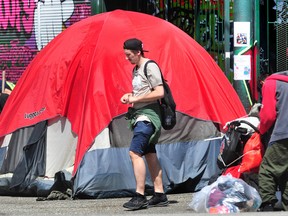 Article content
Tourism operators are raising concerns that a new tent city along Vancouver's East Hastings Street is driving customers away from area stores at the height of the summer tourist season.
Article content
Business groups are calling upon the city to quickly enact a supportive housing solution away from the district, using funding and subsidies from the B.C. government.
More than 130 tarps and tents crowded the two blocks between Main and Carrall streets one morning this week. The makeshift homes provided a sliver of shade and privacy to those inhabiting them; some had propane stoves and heaters.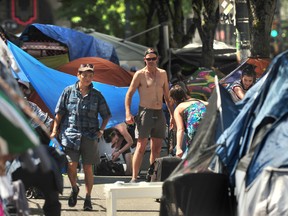 Walley Wagolet, executive director of Gastown's Business Improvement Society, said the tent city is causing undue harm to businesses around the Downtown Eastside.
"This is a business district. Though owners are devastated that so many people are homeless, they too are suffering, teetering on success or failure based on whether travellers explore our city," Wagolet said. "Tourists are beginning to feel it's too unsafe to visit shops because of their proximity to the area."
Article content
After city workers, accompanied by police, were accused of dismantling and discarding unattended tents and other personal possessions left on the streets, city council voted to end the practice of daily "street sweeps" July 1.
"It's been absolute chaos ever since," said Jason Delesoy, manager of the Anthem Properties building at the intersection of Hastings and Carrall, which contains a cafe, lighting store and commercial offices with a secure entry system.
"We've had to double up on our private security, including hiring a guard to work weekends. It's become dangerous, we're seeing stabbings almost every day."
As well as clearing sidewalks beside the building of garbage, Delesoy said security guards' duties have included instructing lost tourists on the quickest route out of the area.
Article content
"Summer travellers come off the cruise ship, maps-in-hand, and wander down here. They get really scared and immediately ask us for help," he said.
Vancouver police Sgt. Steve Addison confirmed that since the beginning of July disorder along East Hastings has increased.
"There have been a number of violent incidents … includ(ing) a man in a wheelchair who was stabbed while trying to navigate through tents and debris on the sidewalk and a woman in her 80s who was bear-sprayed earlier this week."
Sunday last week, a 67-year-old woman was struck on the head with a butcher knife while walking near East Hastings and Carrall, Addison said.
Nathan Murdoch, co-founder of Toonie Tours walking tour company, said many of his customers are shocked to encounter East Hastings, a street that sits between two of the city's oldest neighbourhoods, Gastown and Chinatown.
Article content
"We've tried to plan tours that didn't include the area, but tourists weren't interested. They want to see what has been advertised to them; the most historic spots of Vancouver."
While community organizations agree that a lack of housing is to blame for the urban encampment, they say the most pressing issue is a lack of access to adequate sanitation and water for those who have set up camp.
"I don't think anyone likes or wants to be blocking doorways or making it difficult to navigate the street — but the issue is that there isn't housing," said Fiona York, former project coordinator with the Carnegie Community Action Project.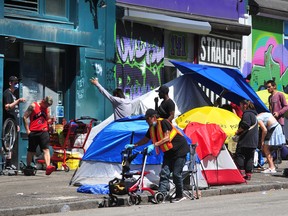 Previously, residents without shelter set up tents in various city parks, including Oppenheimer and CRAB.
Article content
Along with high-priced rents, York said a recent drop in vacancy at single-room occupancy hotels has contributed to an increasing number of people living on the street.
A 43-year-old veteran who has lived in a tent near the intersection of Carrall and East Pender streets for close to a month told Postmedia Thursday that setting up shelter along the sidewalk has offered him a level of protection than sleeping in a tent at CRAB Park.
"There are street lights here, and security cameras around so I get my stuff stolen less."
Wagolet, who represents more than 500 businesses around Gastown, said the city and province need to create more sustainable housing solutions.
"It is crucial that the spaces the province and city establish are suited to the needs and well-being of the people within them," Wagolet said. "What we are doing now is not working. They cannot keep forcing people without homes to move."
Article content
The city said it plans to restore order to the street by hiring and equipping locals, including some who are experiencing homelessness, to carry out sidewalk cleaning and the removal of structures and fire hazards.
"We need to provide time to community groups to organize a block stewardship program to assist with this work," the city said in an email Thursday.
Last week, Vancouver put out more garbage bins along Hastings. Its next stated mission is to increase access to public washrooms, of which only one is located nearby at the Carnegie Community Centre, which closes at 11 p.m. A toilet trailer is planned to be added to the area within the coming week.
When asked whether it has any plans to help alleviate the housing crunch, the province's Ministry of Housing said that B.C. Housing has been "actively reaching out to those camping on the street or in parks to offer indoor spaces."
Article content
"Staff, the City of Vancouver and our non-profit housing operators are working on building supportive homes for people experiencing or at risk of homelessness," it responded by email.
"Since 2018, B.C. Housing has opened more than 1,400 supportive housing units in the city," read the statement. A further 700 spaces are currently in development, it said.
sgrochowski@postmedia.com
---
More news, fewer ads: Our in-depth journalism is possible thanks to the support of our subscribers. For just $3.50 per week, you can get unlimited, ad-lite access to The Vancouver Sun, The Province, National Post and 13 other Canadian news sites. Support us by subscribing today: The Vancouver Sun | The Province.