Medical Officer of Health Dr. Vera Etches expects relatively strong demand for the pediatric vaccine.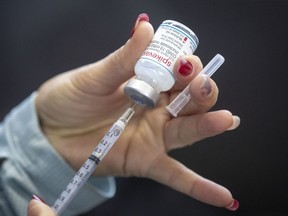 Article content
As Ontario opens bookings to vaccinate children between six months and five years of age for COVID-19 this week, the province has sent a first shipment of doses to Ottawa to cover 10 per cent of the eligible population.
Article content
Children under five have been the only major population group not to qualify for immunization. Though some people are questioning how long it will take to get an appointment, both OPH and the province are not anticipating any shortages of pediatric vaccine.
Medical Officer of Health Dr. Vera Etches expects relatively strong demand for the pediatric vaccine, but OPH will receive another shipment from the province next week, she said.
The lower dose pediatric vaccine by Moderna has been approved as safe and effective by Health Canada, which reviewed vaccine benefits and risk for possible side effects, along with the National Advisory Committee on Immunization (NACI).
Etches points out that children have been and will be hospitalized with COVID-19.
Article content
On Tuesday, CHEO reported that six COVID-positive patients were admitted. Of these, two patients were admitted primarily for COVID-related reasons. Only half of the COVID-positive new admissions were eligible for vaccination.
OPH said it receives an allocated number of vaccine doses to begin vaccinating eligible populations, then orders more vaccines weekly based on its requirements and requests from primary care physicians and pharmacies.
But Dr. Nili Kaplan-Myrth, a Glebe family physician known for her "Jabapalooza" mass vaccination events, questions why more doses were not made available for the newly eligible children as soon as possible.
"Ten per cent. That's ridiculous. They shouldn't be making us beg," said Kaplan-Myrth, whose office has already booked 80 young patients to be vaccinated on Thursday and another 200 to be vaccinated on Friday. Kaplan-Myrth said signing up that number that was only possible after receiving enough vaccine from Ottawa Public Health.
Article content
"It needs to be plentiful and available right from the start," said Kaplan-Myrth.
Doses are to be given four weeks apart, she said.
"We want kids to get two doses before September."
Kaplan-Myrth believes demand will be high. Some families eager to get young children vaccinated have already gone to New York state to get their children vaccinated with their first dose, she said.
Every effort is made to ensure that all doses are used or planned for prior to receiving new shipments, said Kerry Kennedy, OPH manager of immunization.
"We continue to work closely with and are grateful for the support of primary care providers to ensure that those who want to provide the COVID-19 vaccine to their younger patients, can do so," said Kennedy.
Article content
In a statement, a spokesperson for Ontario's Ministry of Health said the province receives COVID-19 vaccines from the federal government and distributes them accordingly to public health units for local distribution to mass vaccination, pharmacy, and primary care-based clinics.
"Ontario anticipates having a sufficient supply of pediatric vaccine to meet demand," they said.
Kaplan-Myrth will be running her Thursday "Junior Jabapalooza" in the parking lot of her office and on the street on Friday, complete with rocking chairs and children's entertainment.
While the two clinics have been all booked up, Kaplan-Myrth is anticipating there will be cancellations because of COVID infections. But families have been anticipating the opportunity to get their young children vaccinated, she said.
Article content
"People will be happy to be able to send their kids to daycare," she said. "It will be a huge thing for people working from home."
Meanwhile, OPH has announced it will add new clinics and more appointments to meet demand and as more vaccine supply is received. Drop-in availability will be limited at community vaccine clinics. Some primary care physicians and pediatricians may also provide this vaccine to their clients, said OPH.

Appointments can be booked through the provincial COVID-19 vaccination portal, by calling the Provincial Vaccine Contact Centre at 1-833-943-390, or by checking local pharmacies to find locations that provide the pediatric COVID-19 vaccine.
OPH is also working with partners to expand current COVID-19 clinics to offer more options for children and their families and make the experience fun for children with stickers and superhero photo booths.
This includes clinics to be held at City of Ottawa buildings at 255 Centrum Boulevard; Mary Pitt Centre at 100 Constellation Drive; Walter Baker Sports Centre; the Horticulture Building at Lansdowne Park and Richelieu-Vanier Community Centre, as well as partner agencies across the city and OPH Neighbourhood Health and Wellness Hubs.
CHEO's Kids Come First Clinic offers vaccinations to children who can't attend a community vaccination clinic. For details, visit CHEO's Vaccination page.