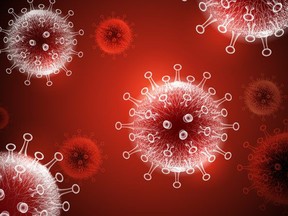 Article content
Ottawa
(Reported Tuesday, last report Friday)
Article content
0: New deaths
817: Total deaths
5: Ottawa residents in hospital due to active infections
0: In ICU because of an active infections
28: Confirmed COVID-19 patients in Ottawa hospitals as of Sunday (includes non-Ottawa residents), 10 in hospital because of COVID-19 (one in ICU) and 18 for other reasons (none in ICU)
150: New COVID-19 cases (case numbers are considered underestimates with testing limited to certain groups)
74,446:Total cases
415: Active cases
16: Ongoing outbreaks in institutional settings
11.6: Per cent test positivity in the community (seven-day average as of June 17)
The current COVID-19 situation
Ottawa's Medical Officer of Health Dr. Vera Etches confirmed Monday that COVID-19 infections in the community were once again increasing, based on rising levels in wastewater, increasing positivity among those being tested, and more outbreaks in long-term care homes and elsewhere.
Article content
Etches encouraged people to make choices that lowered their risk: gather outdoors, wear masks indoors when physical distancing was not possible and get all the vaccine doses for which they were eligible.
Starting last week, OPH is reporting COVID-19 figures on Tuesdays and Fridays, rather than each weekday. Ontario has moved to weekly instead of daily reporting with the next update expected Thursday.
How to get vaccinated
Book vaccinations through the province's COVID-19 vaccination portal or by calling 1-833-943-3900, through public health units that use their own booking systems and at participating pharmacies.
Ottawa Public Health community and after-school clinics are open for shots — drop-in doses are available — for people eligible for first, second or booster doses.
Article content
Where to get tested for COVID-19 in Ottawa
Antiviral treatments are now available for people with symptoms— even if they're mild — who are at higher risk of severe COVID-19, but they must be taken within the first five days of symptoms starting.
People can use the Ontario COVID-19 Antiviral Treatment Screener tool online to determine if they're at higher risk of severe illness and might benefit from the medication.
Molecular testing in the province has been prioritized for people at increased risk and those living or working in high-risk settings.
Ottawans can find out more about eligibility and how to book a test on the Ottawa Public Health website along with what to do if they have symptoms, test positive or are high-risk contacts.
Where to get rapid tests
Ontario is distributing free rapid antigen tests through pharmacy and grocery store locations across the province until at least July 31.
With files from Elizabeth Payne