Controversial Broadway plan was headed for approval Wednesday, after a defeated attempt to punt the issue until after the next election.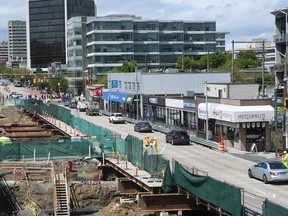 Article content
Vancouver's controversial Broadway plan appeared headed for final approval Wednesday night, after council defeated an attempt to punt the whole issue until after the next election.
Article content
Before council members held a series of votes late Wednesday on individual pieces of the amended plan's final approval, seven of them had indicated in their final speeches they would support it: Mayor Kennedy Stewart, Green Couns. Adriane Carr and Pete Fry, OneCity Coun. Christine Boyle, and ABC Couns. Lisa Dominato, Rebecca Bligh and Sarah Kirby-Yung.
TEAM Coun. Colleen Hardwick, NPA Coun. Melissa De Genova and COPE Coun. Jean Swanson said they would not support the plan. Green Coun. Michael Wiebe had not indicated by deadline whether or not he planned to support the plan.
Earlier Wednesday evening, council rejected an attempt to delay the plan until after October's election. Near the end of a sixth day of public meetings on the plan, Hardwick proposed sending the whole plan, with amendments, back to staff to "undertake neighbourhood-based planning with the affected communities and bring it back to council for consideration after the 2022 municipal election."
Article content
Hardick's proposal was supported by Wiebe and De Genova. But the rest of council voted against the delay, and a heated exchange ensued.
The plan contemplates the next 30 years for an area of almost 500 city blocks along the Broadway subway line, which is under construction, envisioning increasing the population of the corridor described as Vancouver's "second downtown." It sets a course for additional density to the area, where city hall expects the population to increase from about 78,000 residents to as much as 128,000, and from 84,000 jobs to closer to 126,000.
More than 200 people signed up to address council on the plan, one of the highest totals for a single item in recent memory, and council heard impassioned arguments for and against it.
Article content
Hardwick said the fact that council members had prepared more than 40 amendments to the plan showed it was "not ready for prime time."
By referring the plan back to staff, Hardwick said, "the new council can get started with this with a fresh set of eyes and fresh attitude. … We're trying to ram it through before the end of our term, and that's inappropriate."
Other councillors disagreed that anything was being rammed through, considering more than three years of staff work and public consultations had gone into the plan.
"What's behind this referral?" asked Bligh. "The reality is the mover of this referral votes against 90 per cent of development."
Hardwick objected to that characterization from Bligh. The two councillors ran together under the NPA banner in the 2018 election, but will represent different parties in this October's election.
Article content
When Mayor Kennedy Stewart spoke next, Hardwick objected again and the meeting became more heated.
Stewart said: "It's not actually a referral that's being debated here, it's the whole concept of the plan. So I would just say, don't refer it, vote against it. I think a referral is not genuinely what's being debated here, I think if there's fundamental problems with this plan, referring it back is not doing public service."
"I do agree with Coun. Bligh, that if you are against the Broadway subway, and against the extension to UBC, and against 90 per cent of the stuff that comes to council, of course you are going to be against this plan," Stewart said. "But really state your intentions, don't pretend to do that with a referral. Just vote against the plan."
Article content
Hardwick objected and said: "I feel I have been maligned by two council members," namely Bligh and the mayor.
Stewart replied that citing a councillor's voting record on public matters was not the same as maligning someone.
Carr, who was chairing the meeting, urged the councillors to treat each other with respect, even when disagreeing.
The plan has been described, by both supporters and opponents as one of Vancouver's biggest city-building decisions in at least a generation.
Brent Toderian, a former chief planner for Vancouver, argued in a recent Vancouver Sun commentary that the plan's vision for a denser, transit-oriented future is needed for the city to tackle interconnected crises related to housing, climate, social equity, public health, and infrastructure.
The Broadway plan is bold, which is one reason it's controversial, Toderian wrote, "but it is what absolutely needs to be done if we care about the future and are willing to back up our own rhetoric."
Other prominent voices disagreed. In another Vancouver Sun commentary this week, David Ley, a professor emeritus of urban geography at the University of B.C., predicted the plan will lead to increases in land values, the loss of currently existing affordable rental housing, and the displacement of renters living there today.
dfumano@postmedia.com