Turning city government into a quasi-dictatorship might be quite attractive — for the dictator. Not so much for citizens and city councillors.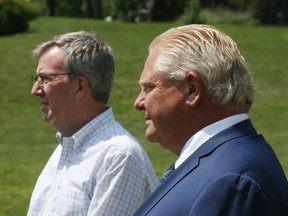 Article content
Ontario Premier Doug Ford's plan to impose a "strong mayor" style of government on Ottawa would solve no existing problem and create some new ones.
Article content
The trouble with municipal government, according to Ford, is that the mayor is just some guy with one vote who can't get things done. That's hardly been the case in Ottawa, with long-serving mayors Jim Watson and Bob Chiarelli getting their way on a regular basis, as any competent political leader would.
Notwithstanding reality, Ford thinks matters would be further helped by giving mayors big new powers. Which ones aren't exactly clear, since the idea leaked out to the media last week before it was fully formed.  From what little we know, our next mayor would be able to veto council motions, perhaps set the budget unilaterally and pretty much act with impunity. The only way to control the powerful new mayor would be with a two-thirds vote of council.
Article content
In effect, Ford would be setting up a scenario where a new mayor would have almost dictatorial powers, as long they had the support of just eight councillors, enough to prevent the majority from over-ruling them. That would leave most councillors, the people you elect to represent you, with little ability to get anything accomplished.
Ford's plan is a potential windfall for council's left wing, surely not what the premier intended. Catherine McKenney is running for mayor and the progressive councillor has a real shot in a multi-candidate race. Were McKenney to win, it would be quite possible for Mayor McKenney and a handful of likeminded councillors to take control of council.
That would be particularly critical when it comes to housing and new development. Municipal Affairs and Housing Minister Steve Clark, searching for a problem his boss's idea might solve, has suggested that a mayor with more powers would help speed up home-building. It's difficult to imagine how that might happen.
Article content
When it comes to development in Ottawa, the problem is not a weak mayor. Jim Watson was feeling so powerful when the city's Official Plan was adopted last year, that he helped direct dramatic last-minute changes to the plan, deleting some of the growth areas staff had proposed and adding a big chunk of east-end land on the grounds of Indigenous reconciliation.
While this council does not excel at planning, that doesn't mean things couldn't be worse.
McKenney is a development skeptic who is prepared to potentially block a proposed 300-unit apartment building downtown in order to preserve an old, six-unit building. Not really the kind of person one would want having absolute control of development.
To their credit, both McKenney and the other leading candidate, former broadcaster Mark Sutcliffe, have criticized Ford's plans and have shown no interest in additional powers. That's certainly the right thing to say, although using those powers could be tempting when a planet-saving matter of principle is at hand.
Article content
Some have questioned the timing of Ford's announcement, coming just months before the October municipal election. The problem isn't the timing. If the government is going to do this, it has to be done close to an election when people are paying some attention, so that the public can decide if it is confident giving a particular mayoral candidate unprecedented new powers
No, the problem is the content of the idea itself, if the words "content" and "idea" can be properly used to describe Ford's plan. Turning city government into a quasi-dictatorship might be quite attractive, for the dictator. Not so much for citizens and people running for council thinking they can make a difference.
It's nice to see the premier have an idea, but the "strong mayor" is a bad one, neither needed nor wanted here. Ford should retract it as quickly as possible.
Randall Denley is an Ottawa political commentator and author. Contact him at randalldenley1@gmail.com