"I'm here in support of my family back in Holland, and the freedom of our own people here in Canada, and farmers everywhere."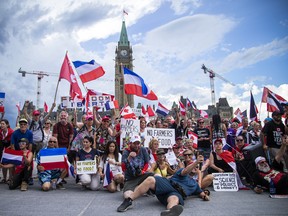 Article content
Dutch flags and placards reading "No Farmers, No Food" were raised alongside the maple leaf and symbols of the "freedom movement" as 150 to 200 people held a noisy, but peaceful rally that spilled onto the street outside the Embassy of the Netherlands on Saturday.
Article content
The group marched along downtown Ottawa streets to the National War Memorial, where they sang O Canada.
Then it was on to Parliament Hill, where they posed for a group picture with signs supporting Dutch farmers who are protesting their government's plans to stem emissions of nitrogen oxide and ammonia. The farmers say it threatens their agricultural way of life and could put them out of business.
"Across Canada Freedom Fighters are standing as one in solidarity with our Dutch brothers and sisters!" said Freedom Fighters Canada, whose Grande Prairie, Alta.-based organizers did not respond to a request for an interview.
The Dutch government aims to slash nitrogen emissions by 50 per cent by 2030, for example, which a group representing Dutch farmers calls "simply unfeasible," while environmentalists say now is the time to act.
Article content
Joyce Rombouts, who lives on a farm in Arnprior, wore traditional Dutch wooden clogs to the protest. She has family who farm in the Netherlands and argues that new restrictions will hurt farmers who've long followed the rules, while the effect on agricultural exports "is going to impact the world."
Rombouts said she attended the winter "Freedom Convoy" advocating for "freedom of choice" after losing her job of more than 15 years at a consulting company because she was not vaccinated against COVID-19.
"I'm here in support of my family back in Holland, and the freedom of our own people here in Canada, and farmers everywhere," said Rombouts, 38.
Saturday's events in Ottawa began with a "slow-roll" of protesters mustering in Kanata, chanting "freedom," then heading east, honking, on Highway 417.  Downtown protesters greeted flag-bedecked vehicles arriving there with cheers as police maintained a "vehicle exclusion zone" around Parliament Hill, tow trucks at the ready.
Article content
The Ottawa Police Service said Saturday afternoon that "vehicle-based demonstrations are prohibited in the downtown core, and police are intervening," pointing to a heavy presence of officers in the area "managing public safety and an increase in traffic."
Police had earlier said that drivers would see temporary closures of downtown Highway 417 off-ramps and rolling road closures in the city's core.
Ottawa's bylaw department said a dozen vehicles had been towed and 103 parking tickets issued as of about 6:30 p.m. in enforcement of the vehicle exclusion zone from Laurier Avenue to Bronson Avenue and Elgin Street.
Saturday's protest also featured placards reading "Hold the Line" and "Free Tamara" — presumably Tamara Lich, the "Freedom Convoy" organizer again behind bars after allegedly breaching bail conditions on charges linked to the winter convoy — and against vaccination of children against COVID-19.
Article content
Literature arguing Prime Minister Justin Trudeau should be charged with treason for invoking the Emergencies Act to quell the winter protests was handed to passersby by a woman who would not give her name and who called on marchers to pay tribute to the truckers who started this "beautiful movement."
Freedom Fighters Canada's website includes anti-COVID-19-vaccine materials and a link to a video from Live From the Shed, billed as "(s)haring the stories of truckers, volunteers, streamers and other heroes from The Freedom Convoy to Ottawa and the wider Canadian Freedom Movement."
On Elgin Street, tourists snapped pictures of the marchers, who were greeted with honks of both apparent support and frustration.
Article content
"Are you protecting us or are you protecting them?" one motorist leaning out her window asked a police officer who held her back from driving across Elgin Street as the marchers headed towards the war memorial, echoing criticism of city police during the winter convoy.
Steph, 33 — she would not give her last name — stood across from the protest at the Dutch embassy wearing a mask and holding a sign reading, "No Hate in My Home."
She said she had appeared with a placard during the winter "Freedom Convoy" — from which there was "no escape" from noise and "hostility" at her home —  and subsequent "freedom movement" events. She pointed to "Canada First" on a nearby placard.
The man holding the placard interjected to deny "Canada First" was a white supremacist group and to call her a "communist" and a "pedophile enabler."
"I want some reflection," Steph said. "I'm not opposed to people protesting, I'm not opposed to what they say their message is about. I just don't believe them."
With files from The Associated Press