Just when a voter might prefer more experienced representatives, Ottawa faces a 'change' election. At least one-third of the next city council will be new kids on the block.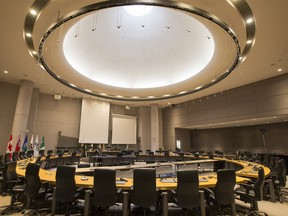 Article content
Granted, the dead of summer is not the best moment to be forced into focusing on municipal politics but, well, here we all are. Incumbent city councillors are dropping off the fall election roster in clumps; the premier is preparing to upend the mayor's job; and for the first time since 2010, the guy who wears the chain of office won't be on the local ballot.
Article content
Meanwhile, city-changing files cluster on the horizon. This week's light-rail woes are a painful reminder of why a provincial commission is examining the entire enterprise. Ottawa has been without a permanent police chief for almost six months. Wellington Street, still closed, remains without a plan. A new wave of COVID flares, to muted messaging from local health authorities. Paramedics are in crisis, despite years of discussion about how to alleviate the local ambulance shortage. How many federal public servants will return to downtown workplaces remains unknown, leaving the city core hollowed out.
More decisions about Lansdowne loom. Council will have to decide how inflation translates onto your next property-tax bill. The affordable-housing crisis has not disappeared. And policy decisions will be made even more difficult by the resignations of experienced bureaucrats, chief planner Steve Willis being the latest to go.
Article content
In other words, just when a voter might prefer more seasoned, experienced representatives, Ottawa faces a "change" election. At least one-third of the city's elected representatives will be new kids on the block.
Why are incumbents melting away? First, generational change: long-in-the-tooth representatives such as Jan Harder, Eli El-Chantiry and Mayor Jim Watson have boxed their rounds and are ready to move on. Second, some nasty chemistry emerged during council's most recent term. Left- and right-wing factions developed; positions hardened on key items. Working remotely made it difficult to hold the personal conversations that often lead to compromise. "This term sucked the life out of a lot of us," El-Chantiry told the Citizen's Jon Willing.
More generally, politicians across all levels of government have been the target of more and more insults — and even threats — from social media misfits. Who needs this?
Will a full range of other talented Ottawans step up to replace the dwindling incumbents?  Will there be a healthy roster of diverse, qualified, consensus-oriented candidates vying to refresh city hall?
And will you, the voters of Ottawa, pay attention to them, then cast a thoughtful ballot in October? Because this municipal election is shaping up as the most important in a decade.