Good evening, SoCal. We're wrapping up the day for you with the most important stories you need to know and your weather outlook.
Your Weather Planner
The weather gets interesting on Wednesday, as we not only have the summer-like heat, but humidity is also added into the mix.
A surge of monsoonal moisture will take place midweek, leading to a chance of scattered showers and thunderstorms. Don't be surprised if you hear rumbles of thunder Wednesday all across Southern California from the coast to the deserts.
Most of this moisture will be elevated, in the upper levels of the atmosphere, meaning most rain won't make it all the way down to the ground. It would need to overcome the very dry layer of air near the surface in order to get to most us. This is why the best chance for measurable precipitation would take place over the higher terrain, including the San Bernardino, Riverside and San Diego County mountains.
Not only that, but elevated storms also brings the threat of gusty winds and dry lightning, which is a concern for fire danger.  
With the added cloud cover, high temperatures will vary quite a bit. Temperatures will mostly be running above average still, especially inland.
Tomorrow's Highs
Get your 7-day forecast: LA West | LA East | San Fernando Valley/Ventura County | Orange County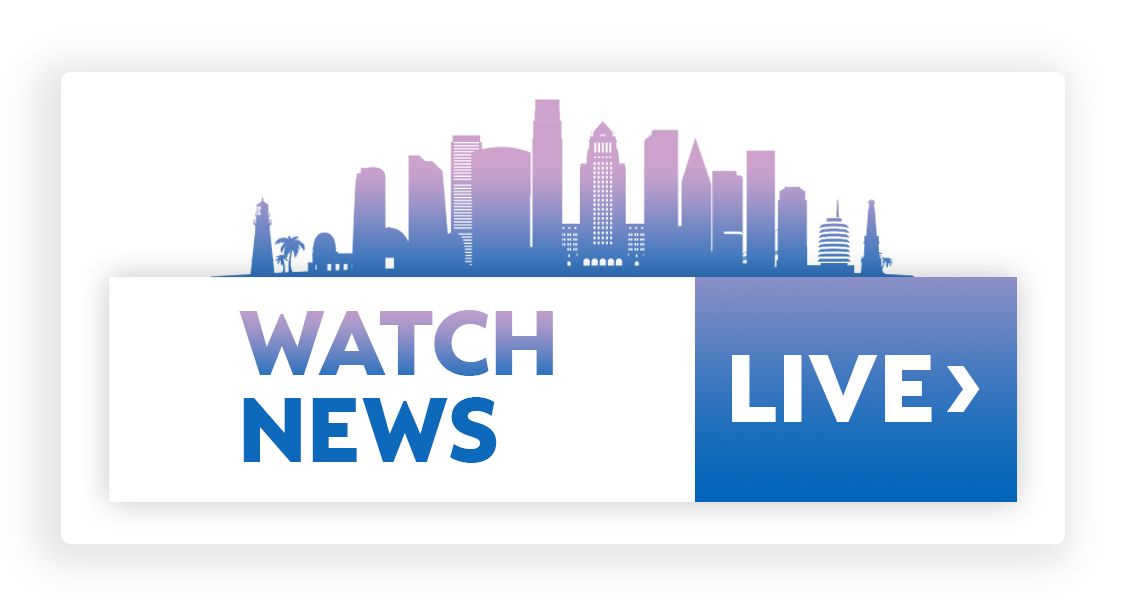 Today's Big Stories
1. COVID vaccinations slowly roll out locally for kids under 5
COVID-19 vaccine doses for children under age 5 began slowly rolling out in Los Angeles County Tuesday, although health officials warned that due to shipping delays, the pediatric shots weren't expected to be more widely available until at least Wednesday.
Federal authorities approved the doses for kids as young as 6 months over the weekend. The approval applies to vaccines manufactured by Moderna and Pfizer-BioNTech.
County health officials noted that young children are considered at lower risk of becoming severely ill or dying from COVID, but they said the risk is higher among unvaccinated children.
They also contend that unvaccinated children are at higher risk of developing Multisystem Inflammatory Syndrome in Children, or MIS-C.
2. Civil jury finds Bill Cosby sexually abused teenager in 1975
Jurors at a civil trial found Tuesday that Bill Cosby sexually abused a 16-year-old girl at the Playboy Mansion in 1975.
The Los Angeles County jury delivered the verdict in favor of Judy Huth, who is now 64, and awarded her $500,000.
Jurors found that Cosby intentionally caused harmful sexual contact with Huth, that he reasonably believed she was under 18, and that his conduct was driven by unnatural or abnormal sexual interest in a minor.
The jurors' decision is a major legal defeat for the 84-year-old entertainer once hailed as America's dad. It comes nearly a year after his Pennsylvania criminal conviction for sexual assault was thrown out and he was freed from prison.
3. U.S. prosecutors will likely drop other charges for Avenatti
Federal prosecutors say they expect to drop additional charges against incarcerated lawyer Michael Avenatti after he pleaded guilty to multiple counts of wire fraud for swindling his clients out of settlement funds they were due.
In a court filing Tuesday, the U.S. attorney's office said it "expects to move to dismiss the remaining counts of the Indictment after sentence is imposed."
The move comes days after Avenatti entered guilty pleas in federal court to four counts of wire fraud and a tax-related charge. He is scheduled to be sentenced on those charges on Sept. 19.
Avenatti is currently serving five years in prison for convictions in two cases in New York. He was convicted of stealing book proceeds from Stormy Daniels, the porn actor who catapulted Avenatti to fame as he represented her during her legal battles with then-President Donald Trump.
4. Health care worker wage initiative petition comes before LA City Council
The Los Angeles City Council will consider two courses of action Tuesday following a successful petition by people seeking to raise the minimum wage for those working at covered health care facilities in Los Angeles to $25 per hour.
The "Minimum Wage for Employees Working at Healthcare Facilities" initiative is aimed at raising the workers' minimum wage and having it adjusted annually to account for increases in the cost of living.
The ordinance would also prohibit employers from funding the minimum wage increase by laying off workers or reducing benefits or hours.
The City Council can either adopt the proposed initiative ordinance without alteration or vote to present the idea to voters in a ballot measure during the next regular city or statewide election.
5. 'There is nowhere I feel safe. Nowhere': 6 takeaways from Jan. 6 panel's fourth hearing
The House Select Committee investigating the Jan. 6 attack on Tuesday held a hearing centered around former President Donald Trump's efforts to pressure state officials to overturn the 2020 election, either by pressuring election officials in battleground states to reject ballots or submit slates of fake electors to Congress.
"When Donald Trump tried to overturn the election results, he focused on just a few states. He wanted officials at the local and state level to say the vote was tainted by widespread fraud," said Chairman Bennie Thompson, D-Miss.
"On Nov. 3, 2020, Donald Trump ran for re-election to the office of the presidency, and he lost," said California Rep. Adam Schiff, who led Tuesday's proceedings. "For the first time in history, the losing presidential candidate fought to hold onto power. As we have seen in previous hearings, he did so through a variety of means."
Click the link above for takeaways from the House Jan. 6 panel's fourth public hearing.
---
Your Notes for Tomorrow
The Los Angeles Dodgers face the Reds in Cincinnati
The LA Angels face the Kansas City Royals in Anaheim
NHL Stanley Cup Final continues: Colorado Avalanche @ Tampa Bay Lightning
World Rainforest Day
---
In Case You Missed It

After President Joe Biden declared Juneteenth a national holiday in 2021, it's now being recognized and celebrated with parades, parties and events across the country.
On this week's "In Focus SoCal", host Tanya McRae spoke to Los Angeles County Supervisor Holly Mitchell, who has been a driving force behind recognizing and celebrating Juneteenth in the city.
She says that it's not a "Black holiday," but an important marker in our country's history that all Americans should celebrate.
Click the link above to find out more.