"If we want treaty to deliver, if we want it to improve the lives of our people, we cannot move forward using the same systems that have been used against us or held us back for so long," Stewart said.
"The Treaty Authority was informed after years of yarning, consultations and engagement with our people. As you know, building consensus takes time. And we come here with an agreement that we are confident has the backing of our communities."
Stewart said the model for the new authority would ensure that treaty negotiations were "not restrained by colonial systems and government bureaucracy" and instead uphold First Nations culture, lore and law.
In May, Stewart told the Yoorrook Justice Commission that a reasonable time frame for reaching a statewide treaty process could extend to eight or 10 years.
Fighting back tears in recommending the bill to the chamber, Environment Minister Lily D'Ambrosio said supporting the proposed legislation was an opportunity to "lay a stone for trust" in moving the treaty process forward.
"Goodwill has to be the lining for which we progress forward," she said.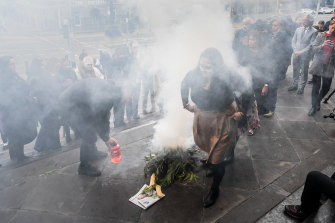 Earlier, Aboriginal Affairs Minister Gabrielle Williams said the passage of the bill was a historic moment in Victoria. She said the establishment of the Treaty Authority was a key enabler for negotiations that will start next year.
"This is fundamentally about building a future for Victorians that we can all be part of and coming to terms with a past that has been very traumatic," Williams told The Age and The Sydney Morning Herald.
"I hope that we do get a unified opposition in its support of the bill today, but I have concerns that we will see them splinter on this."
After a party room meeting on Tuesday, the opposition has thrown its support behind the bill, although a small number of Coalition members, including Kew MP Tim Smith, oppose it.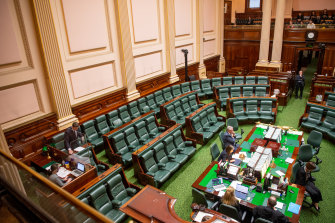 Addressing an almost empty chamber on Wednesday afternoon, Smith said he believed the government could not enter into a treaty with its own citizens.
"I find the statement 'Always was, always will be' personally offensive," he said, referencing a popular First Nations land rights rallying cry.
Loading
"This land belongs to all Australians, black and white alike, and divisive tokenism like this treaty further perpetuates the further undermining of Australia's unity.
"I find the phrase 'Invasion Day' personally offensive.
"On a day like this, if I can paraphrase that great man, Nelson Mandela: Australia belongs to all who live in it. Black and white alike. And it is fundamentally illiberal to treat any racial group in our society any differently to any other."
Debate on the bill continues on Wednesday evening. A vote is expected on Thursday.