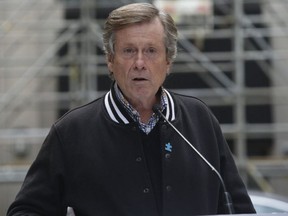 Article content
John Tory wants a third term as mayor of Toronto and the biggest question that voters need to ask is why they should give it to him. Tory hasn't done a horrible job, but right now, basic services aren't working properly.
Article content
We have public washrooms and water fountains that don't work. The garbage bins that line our streets are perpetually a mess. And have you tried to rely on the TTC lately? Subways get shut down far too often, buses are forever late.
That's the nice stuff, the easy stuff that the city should be able to get right. While the mayor isn't in charge of delivering all of those services personally, he's the man who ran on making them better.
Good luck arguing that's happened.
We also have shootings on the rise, and carjackings are a new concern, not to mention crime in general.
Here's some shocking statistics of Tory's time in office. Over the first seven years of his time as mayor, Toronto saw an average of 411 shootings and 41 deaths each year. In the seven years before, there were an average of 225 shootings and 31 deaths annually.
Article content
Not all of this can be laid at the feet of Tory, or the respective police chiefs we've dealt with over those years. Every time I write about gun crime, Toronto residents write to inform me that carding was stopped in 2015 and if we brought that back, everything would be great.
Even that's only part of the story.
The rise in gun crime mirrors the rise of the opioid crisis across Canada, which also coincides with the removal of carding in Toronto. Shootings are up all over, though, so carding isn't the only or even main issue.
Drug gangs protecting their turf is likely a bigger part.
That's hardly something a mayor can deal with, but where has Tory been on this issue?
He calls for a handgun ban he knows won't work to appease NDP voters and councillors, while giving lip service to issues like bail reform and tougher sentencing, which are bigger issues.
Article content
Over the Father's Day weekend, there were six shooting incidents in the city, with 11 people hit by bullets and two people killed. Tory's statement after the fact was a word salad about supporting police and bringing people to justice.
Where are his loud calls for bail reform? I know he supports it, but he needs to be louder.
Where are Tory's comments on his allies in the Trudeau Liberal government passing Bill C-5? This is the bill that will reduce sentences for people convicted of repeat gun offences, and I haven't heard from him on that.
I've felt for a long time that Tory is elected by centrist voters who align with the Liberals or Conservatives, but immediately runs to make sure the NDP wing of council is happy once he's elected.
Article content
"He's forgetting who his friends are," said one frustrated Liberal who has backed Tory in the past.
That sentiment is repeated time and again as you talk to people who are involved in politics, some of them close to the mayor, but who feel he's lost his way at City Hall.
If Tory wants to run as the NDP candidate for mayor, then he should say so. If he wants to be the centrist candidate, then he will have more than a little explaining to do.
Right now, Tory is banking on the fact that he has no high profile challenger from the right and can keep behaving in a way that alienates those who backed him in the past -– see his support for ActiveTO screwing up traffic.
That may not be the case come Oct. 24, though, and if he wants that third term, he should start thinking about those that elected him twice instead of trying to placate those who will never vote for him.