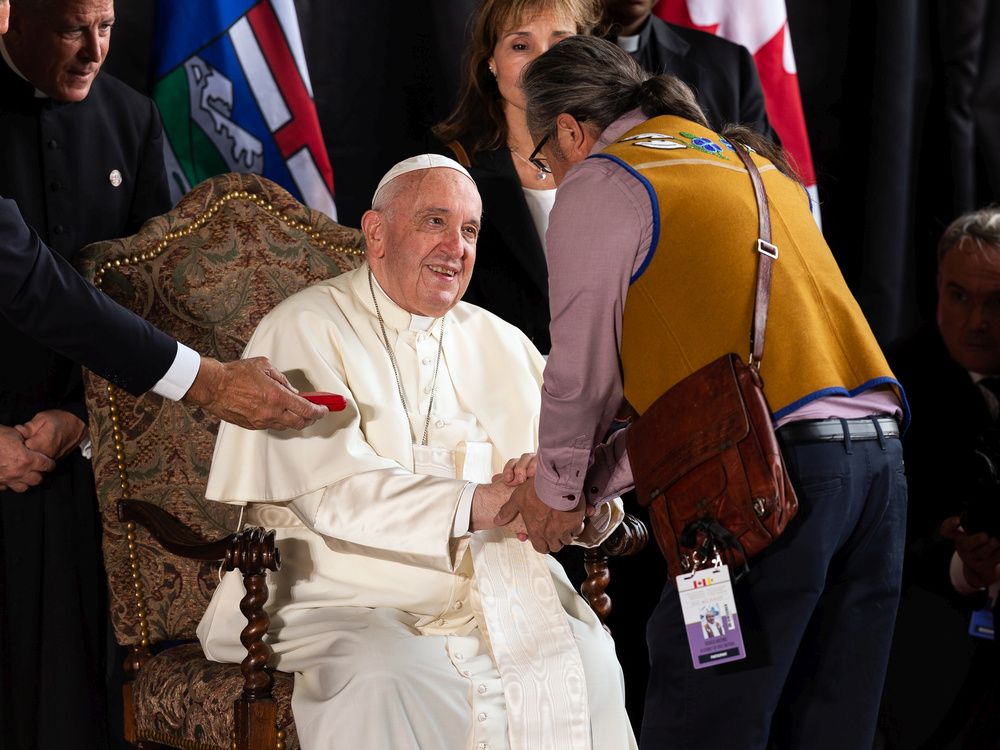 Pope Francis has arrived in Edmonton to start his six-day visit in Canada
Pope Francis's plane, an ITA Airways A330, taxis to deplane the pontiff as he starts his papal visit in Canada after landing at Edmonton International Airport, on Sunday, July 24, 2022. A brief welcome ceremony greeted the head of the Catholic Church before he headed into Edmonton accompanied by his papal seguito (entourage). \ Photo by Ian Kucerak /Postmedia

The papal coat of arms is seen on Pope Francis's plane, an ITA Airways A330, as he starts his papal visit in Canada after landing at Edmonton International Airport, on Sunday, July 24, 2022. A brief welcome ceremony greeted the head of the Catholic Church before he headed into Edmonton. Photo by Ian Kucerak /Postmedia

Pope Francis's papal seguito (entourage) deplane from an ITA Airways A330 as he starts his papal visit in Canada after landing at Edmonton International Airport, on Sunday, July 24, 2022. A brief welcome ceremony greeted the head of the Catholic Church before he headed into Edmonton. \ Photo by Ian Kucerak /Postmedia

The Vatican press corps deplane as Pope Francis's plane as he starts his papal visit in Canada after landing at Edmonton International Airport, on Sunday, July 24, 2022. A brief welcome ceremony greeted the head of the Catholic Church before he headed into Edmonton accompanied by his papal seguito (entourage). Photo by Ian Kucerak /Postmedia

Pope Francis starts his papal visit in Canada after landing at Edmonton International Airport, on Sunday, July 24, 2022. A brief welcome ceremony greeted the head of the Catholic Church before he headed into Edmonton accompanied by his papal seguito (entourage). Photo by Ian Kucerak /Postmedia

Prime Minister Justin Trudeau (left), Governor General of Canada Mary Simon (centre) and her partner Whit Fraser arrive before Pope Francis lands in Canada to starts his papal visit at Edmonton International Airport, on Sunday, July 24, 2022. A brief welcome ceremony greeted the head of the Catholic Church before he headed into Edmonton accompanied by his papal seguito (entourage). Photo by Ian Kucerak /Postmedia

Prime Minister Justin Trudeau (right) speaks with Confederacy of Treaty 6 First Nations Grand Chief George Arcand Jr. as Pope Francis's plane arrives as he starts his papal visit in Canada after landing at Edmonton International Airport, on Sunday, July 24, 2022. A brief welcome ceremony greeted the head of the Catholic Church before he headed into Edmonton accompanied by his papal seguito (entourage). Photo by Ian Kucerak /Postmedia

The Logan Alexis Singers from Alexis Nation welcome Pope Francis as he starts his papal visit in Canada after landing at Edmonton International Airport, on Sunday, July 24, 2022. A brief welcome ceremony greeted the head of the Catholic Church before he headed into Edmonton accompanied by his papal seguito (entourage). Photo by Ian Kucerak /Postmedia

Pope Francis greets members of the official welcoming party as he begin his papal visit in Canada after landing at Edmonton International Airport, on Sunday, July 24, 2022. A brief welcome ceremony greeted the head of the Catholic Church before he headed into Edmonton accompanied by his papal seguito (entourage). Photo by Ian Kucerak /Postmedia

Pope Francis greets Audrey Poitras, President of the Métis Nation of Alberta as he begins his papal visit in Canada after landing at Edmonton International Airport, on Sunday, July 24, 2022. A brief welcome ceremony greeted the head of the Catholic Church before he headed into Edmonton accompanied by his papal seguito (entourage). Photo by Ian Kucerak /Postmedia

Pope Francis greets Gerald Antoine, regional Chief, Assembly of First Nations, as he starts his his papal visit in Canada after landing at Edmonton International Airport, on Sunday, July 24, 2022. A brief welcome ceremony greeted the head of the Catholic Church before he headed into Edmonton accompanied by his papal seguito (entourage). Photo by Ian Kucerak /Postmedia

Pope Francis is helped to his wheelchair as he starts his papal visit in Canada after landing at Edmonton International Airport, on Sunday, July 24, 2022. Pope Francis, at 85, traveled from Italy to Canada to apologize for the treatment of Indigenous peoples by the Church. Photo by Ian Kucerak /Postmedia

Soldiers with 1 Canadian Mechanized Brigade Group greet Pope Francis as he starts his papal visit in Canada after landing at Edmonton International Airport, on Sunday, July 24, 2022. A brief welcome ceremony greeted the head of the Catholic Church before he headed into Edmonton accompanied by his papal seguito (entourage). Photo by Ian Kucerak /Postmedia

Pope Francis greets members of the official welcoming party as he begin his papal visit in Canada after landing at Edmonton International Airport, on Sunday, July 24, 2022. A brief welcome ceremony greeted the head of the Catholic Church before he headed into Edmonton accompanied by his papal seguito (entourage). Photo by Ian Kucerak /Postmedia

Prime Minister Justin Trudeau, Pope Francis and Governor General of Canada Mary Simon are seen as the pontiff starts his papal visit in Canada after landing at Edmonton International Airport, on Sunday, July 24, 2022. A brief welcome ceremony greeted the head of the Catholic Church before he headed into Edmonton accompanied by his papal seguito (entourage). Photo by Ian Kucerak /Postmedia

Pope Francis is greeted by Confederacy of Treaty Six First Nations Grand Chief George Arcand during a welcome ceremony at Edmonton International Airport, near Edmonton, Alberta, Canada July 24, 2022. Photo by AMBER BRACKEN /REUTERS

Pope Francis (C), Canadian Prime Minister Justin Trudeau (L) and the Governor General of Canada Mary Simon take part in a welcoming ceremony for the Pope at Edmonton International Airport in Alberta Providence, Canada, on July 24, 2022. – Pope Francis visits Canada for a chance to personally apologize to Indigenous survivors of abuse committed over a span of decades at residential schools run by the Catholic Church. Photo by PATRICK T. FALLON /AFP via Getty Images

Pope Francis attends his welcoming ceremony at Edmonton International Airport in Alberta Providence, Canada, on July 24, 2022. – Pope Francis visits Canada for a chance to personally apologize to Indigenous survivors of abuse committed over a span of decades at residential schools run by the Catholic Church. Photo by PATRICK T. FALLON /AFP via Getty Images

Pope Francis is welcomed by Canada's Prime Minister Justin Trudeau after arriving at Edmonton International Airport, near Edmonton, Alberta, Canada July 24, 2022. Photo by Guglielmo Mangiapane /Reuters

Pope Francisattends his welcoming ceremony at Edmonton International Airport in Alberta Providence, Canada, on July 24, 2022. – Pope Francis visits Canada for a chance to personally apologize to Indigenous survivors of abuse committed over a span of decades at residential schools run by the Catholic Church. Photo by PATRICK T. FALLON /AFP via Getty Images

Pope Francis arrives in Canada after landing at Edmonton International Airport, western Canada, on July 24, 2022. – Pope Francis visits Canada for a chance to personally apologize to Indigenous survivors of abuse committed over a span of decades at residential schools run by the Catholic Church. Photo by VINCENZO PINTO /AFP via Getty Images

Indigenous musicians play for Pope Francis during a welcoming ceremony for the Pope at Edmonton International Airport in Alberta, western Canada, on July 24, 2022. – Pope Francis visits Canada for a chance to personally apologize to Indigenous survivors of abuse committed over a span of decades at residential schools run by the Catholic Church. Photo by VINCENZO PINTO /AFP via Getty Images

Pope Francis speaks with member of an indigenous tribe during his welcoming ceremony at Edmonton International Airport in Alberta Providence, Canada, on July 24, 2022. – Pope Francis visits Canada for a chance to personally apologize to Indigenous survivors of abuse committed over a span of decades at residential schools run by the Catholic Church. ( Photo by PATRICK T. FALLON /AFP via Getty Images

Pope Francis attends a welcome ceremony at Edmonton International Airport, near Edmonton, Alberta, Canada July 24, 2022. Photo by AMBER BRACKEN /REUTERS

Pope Francis arrives to his welcoming ceremony after landing at Edmonton International Airport, western Canada, on July 24, 2022. – Pope Francis visits Canada for a chance to personally apologize to Indigenous survivors of abuse committed over a span of decades at residential schools run by the Catholic Church. Photo by VINCENZO PINTO /AFP via Getty Images

Pope Francis is welcomed after arriving at Edmonton International Airport, near Edmonton, Alberta, Canada July 24, 2022. Photo by GUGLIELMO MANGIAPANE /REUTERS

Confederacy of Treaty Six First Nations Grand Chief George Arcand attends a welcome ceremony for Pope Francis at Edmonton International Airport, near Edmonton, Alberta, Canada July 24, 2022. Photo by AMBER BRACKEN /REUTERS

Pope Francis, next to Governor General of Canada Mary Simon (R), attends his welcoming ceremony at Edmonton International Airport in Alberta, western Canada, on July 24, 2022. – Pope Francis visits Canada for a chance to personally apologize to Indigenous survivors of abuse committed over a span of decades at residential schools run by the Catholic Church. Photo by VINCENZO PINTO /AFP via Getty Images

Pope Francis meets a member of an indigenous tribe during his welcoming ceremony at Edmonton International Airport in Alberta, western Canada, on July 24, 2022. – Pope Francis visits Canada for a chance to personally apologize to Indigenous survivors of abuse committed over a span of decades at residential schools run by the Catholic Church. Photo by VINCENZO PINTO /AFP via Getty Images
All 29 Photos for Gallery
Function Not Available
Full Screen is not supported on this browser version.
You may use a different browser or device to view this in full screen.
Article content
EDMONTON — Pope Francis arrived in Canada on Sunday to an honour drum song ahead of what he describes as a "penitential" trip aimed at reconciliation with Indigenous people for the Catholic Church's role in residential schools.
Article content
The drum group from Alexis Nakota Sioux Nation sang in front of Francis as he sat between Prime Minister Justin Trudeau and Gov. Gen. Mary Simon at an airport hangar in Edmonton.
The Pope told reporters on the plane before it landed that the six-day visit must be handled with care.
The pontiff is also set to travel to Quebec City and Iqaluit.
"I hope, with God's grace, that my penitential pilgrimage might contribute to the journey of reconciliation already undertaken. Please accompany me with #prayer," said a message on the Pope's Twitter account.
An elevator was used to get the Pope off the plane, and he went for a short ride in a Fiat to the hangar. He then got into a wheelchair and was taken to a red carpet for the official welcome ceremony.
Article content
— The Canadian Press
Papal visit organizers confident things will go 'mostly right' not 'precisely wrong'

Pope's Sunday arrival marks start of busy three days in Edmonton area

Keith Gerein: A tale of two Popes in Edmonton, and a long overdue reckoning with the past
---
Follow along with our live blog below
---
12 p.m.
Crowd gathers along Ellerslie Road to greet Pope Francis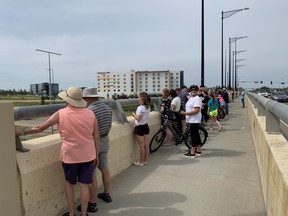 A crowd of well-wishers gathered along Ellerslie Road over Gateway Boulevard to watch Pope Francis as his motorcade arrived in Edmonton on Sunday.
"It's, like, once-in-a-lifetime to meet the Pope," said Caroline Puyat, a Catholic, who was one of about 40 people gathered along the overpass. "It's really important that he's coming over here for healing and reconciliation and hope."
Article content
"He's one of the most famous people in the world so why wouldn't you come out and have a look and see what it's all about," said Brian Rothwell, who said he's not a Catholic himself but that the Pope's trip is an important one.
"I think that it's needed," said Rothwell. "I think coming from a top level like that means a lot to the Indigenous people, really."
Article content
---
Kenney welcomes Pope in message
Article content
The Alberta government issued a statement welcoming Pope Francis to the province timed to coincide with the scheduled landing of the pontiff's flight at Edmonton International Airport, about 11:20 a.m. Sunday.
"It is a great honour to welcome His Holiness Pope Francis to Alberta on his pilgrimage of prayer, penitence, healing and reconciliation," Premier Jason Kenney said in the release. "While his presence among us is of historic significance to Alberta Catholics, the papal visit is a blessing for all Albertans, beginning with Indigenous Peoples.
"Edmonton, our capital, is proud to host a third papal visit and the first visit of Pope Francis to Canada."
Kenney said Pope John Paul II's visit to Fort Simpson, in the southwest of the Northwest Territories, in 1987 could be viewed as an "initial step toward reconciliation before we even knew the full need for it.
Article content
"The painful legacy of residential schools, which is the focus of this papal visit to Alberta, requires both expressions of remorse and concrete actions," Kenney continued. "The visit of Pope Francis is both, and the Province of Alberta is proud to host it.
"May it be an occasion of both truth and reconciliation, to which the government and people of Alberta are committed."
---
11 a.m.
Pope Francis arrives at EIA
By The Canadian Press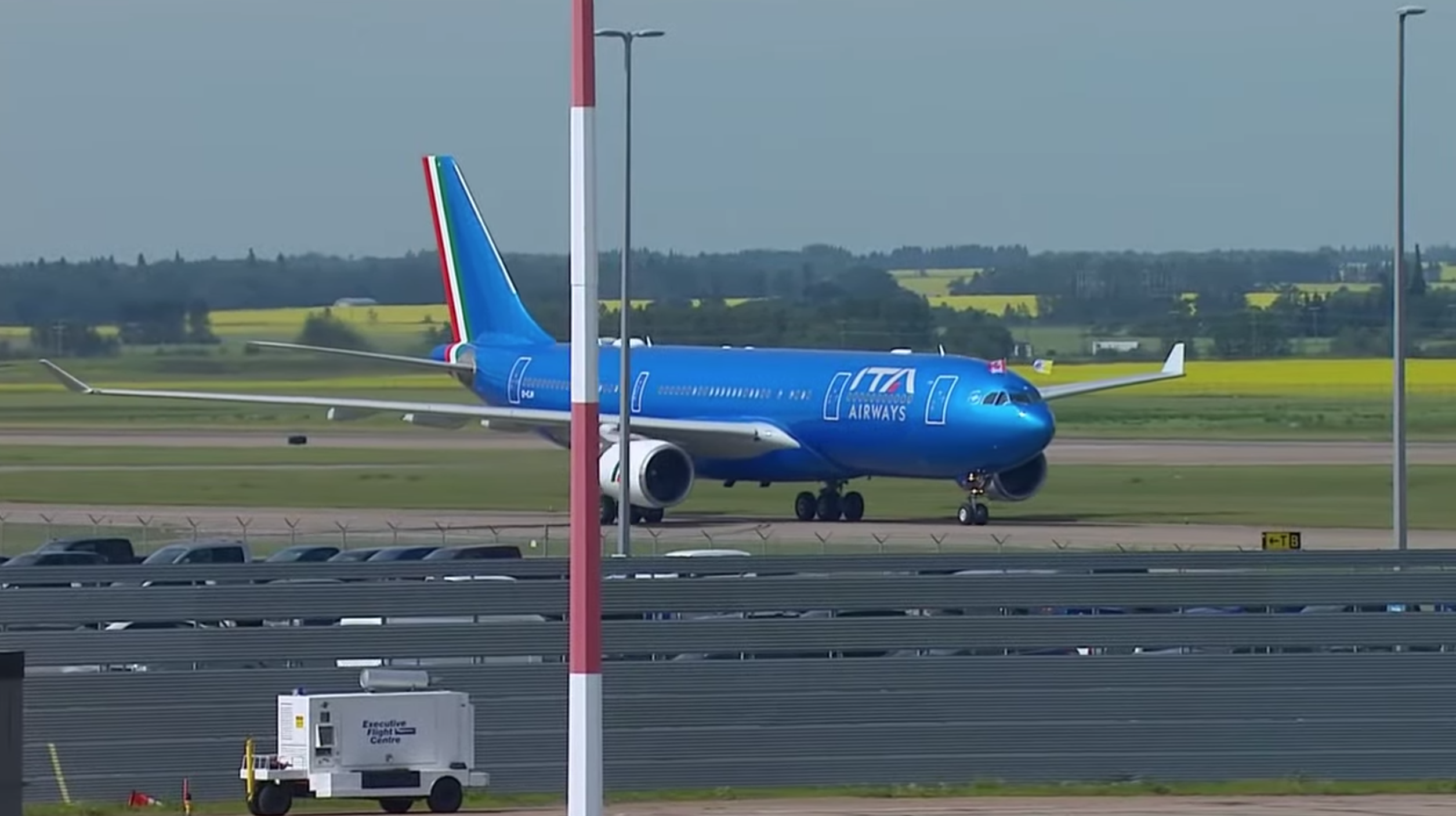 EDMONTON — Pope Francis has arrived in Edmonton to start his six-day visit in Canada.
The tour is aimed at reconciliation with Indigenous people for the Roman Catholic Church's role in residential schools.
The Pope has said he hopes the "penitential" trip will contribute to reconciliation with Indigenous Peoples.
Article content
The 85-year-old, who is to use a wheelchair throughout the tour, is also scheduled to travel to Quebec City and Iqaluit.
Francis is to be greeted at the Edmonton airport by Prime Minister Justin Trudeau and Gov. Gen. Mary Simon, as well as other church, Indigenous and political dignitaries.
Article content
---
The Pope's plane is scheduled to touch down at Edmonton International Airport at 11:20 a.m. Sunday, marking the start of what's expected to be a solemn six-day visit to Canada.
Much of that time will be spent in the Edmonton area with events planned for Maskwacis, Lac Ste. Anne and in the city itself between Sunday and Wednesday morning.
Article content
On Tuesday, he will host an open-air mass at Commonwealth Stadium before travelling to Lac Ste. Anne in the late afternoon.
All tickets have been registered for the Pope's mass at Commonwealth Stadium, organizers say, but add that it's not too late for Indigenous survivors of residential schools to register to attend other events.
"If there are folks … for whom coming to Maskwacis or Lac Ste. Anne is an important part of their healing journey, we will take you," said visit organizer Steven Kwasny.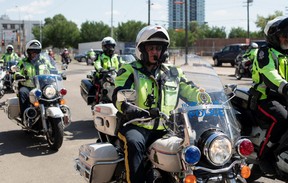 Below is a rundown of the Pope's itinerary while in Alberta.
Sunday — July 24
Pope Francis' A330 will depart Rome at 9 a.m. local time and is scheduled to land at Edmonton International Airport at 11:20 a.m.
He'll be officially greeted by a party including residential school survivors as well as Gov. Gen. Mary Simon, Prime Minister Justin Trudeau, Premier Jason Kenney and Mayor Amarjeet Sohi.
Article content
The Pope's motorcade will travel north, prompting rolling road closures on the QEII to St. Joseph Seminary where the Pope will stay during his visit.
Monday — July 25
In the morning, the Pope will travel south to Maskwacis, arriving at 9:45 a.m., where he'll visit the former Ermineskin Residential School. He's scheduled to spend about two hours in the community before travelling back to Edmonton.
There will again be rolling closures of parts of the QEII as well as on Highway 2A and along Highway 611 throughout the day.
At 4:45 p.m., Pope Francis is scheduled to arrive at the Sacred Heart Church of the First Peoples in Downtown Edmonton for an hour-long visit. Various nearby roads will be closed off.
Tuesday — July 26
Article content
Doors at Commonwealth Stadium will open at 7:30 a.m. ahead of the Pope's 9:30 a.m. open-air mass. Organizers say attendees must be in their seats no later than 8:15 a.m. when the program begins.
That afternoon, the Pope will travel to Lac Ste. Anne, arriving at the pilgrimage site just before 5 p.m. He is scheduled to remain there for about an hour before returning to Edmonton.
Highways 16 and 633 are among those affected by rolling closures throughout the afternoon.
Wednesday — July 27
Pope Francis will make an early-morning trip to the airport ahead of a scheduled 9 a.m. departure.
Once again, parts of the QEII will be restricted as the motorcade travels to the airport.
— With files from Reuters