Pope Francis has left the Lac Ste. Anne pilgrimage site, northwest of Edmonton, in his last public appearance in Alberta before heading to Quebec
Members of the Indigenous community await the arrival of Pope Francis at Lac Ste. Anne, northwest of Edmonton, Alberta, Canada, on July 26, 2022. Photo by VINCENZO PINTO /AFP via Getty Images

An Indigenous community member awaits the arrival of Pope Francis at Lac Ste. Anne, northwest of Edmonton, Alberta, Canada, on July 26, 2022. Photo by VINCENZO PINTO /AFP via Getty Images

A member of the Alexis Nakota Sioux Nation awaits the arrival of Pope Francis at Lac Ste. Anne, northwest of Edmonton, Alberta, Canada, on July 26, 2022. Photo by VINCENZO PINTO /AFP via Getty Images

Indigenous community members display a banner reading "Sturgeon Lake Cree Nation" while awaiting the arrival of Pope Francis at Lac Ste. Anne, northwest of Edmonton, Alberta, Canada, on July 26, 2022. Photo by VINCENZO PINTO /AFP via Getty Images

An indigenous community members awaits the arrival of Pope Francis at Lac Ste. Anne, northwest of Edmonton, Alberta, Canada, on July 26, 2022. Photo by VINCENZO PINTO /AFP via Getty Images

People await the arrival of Pope Francis at Lac Ste. Anne, northwest of Edmonton, Alberta, Canada, on July 26, 2022. Photo by VINCENZO PINTO /AFP via Getty Images

People await the arrival of Pope Francis at Lac Ste. Anne, northwest of Edmonton, Alberta, Canada, on July 26, 2022. Photo by VINCENZO PINTO /AFP via Getty Images

People await the arrival of Pope Francis at Lac Ste. Anne, northwest of Edmonton, Alberta, Canada, on July 26, 2022. Photo by VINCENZO PINTO /AFP via Getty Images

People on boats and on land await the arrival of Pope Francis at Lac Ste. Anne, northwest of Edmonton, Alberta, Canada, July 26, 2022. Photo by PATRICK T. FALLON /AFP via Getty Images

Clergy members await the arrival of Pope Francis at Lac Ste. Anne, northwest of Edmonton, Alberta, Canada, on July 26, 2022. Photo by VINCENZO PINTO /AFP via Getty Images

Pope Francis waves as he arrives at Lac Ste. Anne, northwest of Edmonton, Alberta, Canada, July 26, 2022. Photo by PATRICK T. FALLON /AFP via Getty Images

A member of the Alexis Nakota Sioux Nation walks alongside Pope Francis as he arrives to participate in the Lac Ste. Anne Pilgrimage and Liturgy of the Word at Lac Ste. Anne, northwest of Edmonton, Alberta, Canada, July 26, 2022. Photo by PATRICK T. FALLON /AFP via Getty Images

A member of the Alexis Nakota Sioux Nation walks alongside Pope Francis as he arrives to participate in the Lac Ste. Anne Pilgrimage and Liturgy of the Word at Lac Ste. Anne, northwest of Edmonton, Alberta, Canada, July 26, 2022. Photo by PATRICK T. FALLON /AFP via Getty Images

Pope Francis arrives to attend the Lac Ste. Anne Pilgrimage, an annual pilgrimage that welcomes tens of thousands of Indigenous participants from throughout Canada and the United States each year, at Lac Ste. Anne, Alberta, Canada July 26, 2022. Photo by GUGLIELMO MANGIAPANE /REUTERS

Pope Francis prepares to take part in the blessing of Lac ST. Anne on Tuesday,July 26, 2022. Pope Francis is visiting Canada to apologize to Indigenous survivors of abuse committed over decades at Catholic Church run residential schools. Photo by Greg Southam /Postmedia

Pope Francis sprinkles the blessed water enroute to the Shrine on Tuesday,July 26, 2022 at Lac Ste. Anne. Pope Francis is visiting Canada to apologize to Indigenous survivors of abuse committed over decades at Catholic Church run residential schools. Photo by Greg Southam /Postmedia

Pope Francis sprinkles the blessed water enroute to the Shrine on Tuesday,July 26, 2022 at Lac Ste. Anne. Pope Francis is visiting Canada to apologize to Indigenous survivors of abuse committed over decades at Catholic Church run residential schools. Photo by Greg Southam /Postmedia

Pope Francis arrives to participate in the Lac Ste. Anne Pilgrimage and Liturgy of the Word at Lac Ste. Anne, northwest of Edmonton, Alberta, Canada, July 26, 2022. Photo by VINCENZO PINTO /AFP via Getty Images

Pope Francis blesses the water of the lake as he attends the Lac Ste. Anne Pilgrimage, an annual pilgrimage that welcomes tens of thousands of Indigenous participants from throughout Canada and the United States each year, at Lac Ste. Anne, Alberta, Canada July 26, 2022. Photo by GUGLIELMO MANGIAPANE /REUTERS

Pope Francis participates in the Lac Ste. Anne Pilgrimage and Liturgy of the Word at Lac Ste. Anne, northwest of Edmonton, Alberta, Canada, July 26, 2022. Photo by VINCENZO PINTO /AFP via Getty Images

Pope Francis articipates in the Lac Ste. Anne Pilgrimage and Liturgy of the Word at Lac Ste. Anne, northwest of Edmonton, Alberta, Canada, July 26, 2022. Photo by VINCENZO PINTO /AFP via Getty Images

Pope Francis articipates in the Lac Ste. Anne Pilgrimage and Liturgy of the Word at Lac Ste. Anne, northwest of Edmonton, Alberta, Canada, July 26, 2022. Photo by VINCENZO PINTO /AFP via Getty Images

Pope Francis articipates in the Lac Ste. Anne Pilgrimage and Liturgy of the Word at Lac Ste. Anne, northwest of Edmonton, Alberta, Canada, July 26, 2022. ( Photo by VINCENZO PINTO /AFP via Getty Images

Pope Francis attends the Liturgy of the Word during the Lac Ste. Anne Pilgrimage, an annual pilgrimage that welcomes tens of thousands of Indigenous participants from throughout Canada and the United States each year, at Lac Ste. Anne, Alberta, Canada July 26, 2022. Photo by GUGLIELMO MANGIAPANE /REUTERS

Pope Francis blesses pilgrims with water from the lake during the Lac Ste. Anne Pilgrimage and Liturgy of the Word at Lac Ste. Anne, northwest of Edmonton, Alberta, Canada, July 26, 2022. Photo by PATRICK T. FALLON /AFP via Getty Images

Chief Tony Alexis, of the Alexis Nakota Sioux Nation, walks alongside Pope Francis during the Lac Ste. Anne Pilgrimage and Liturgy of the Word at Lac Ste. Anne, northwest of Edmonton, Alberta, Canada, July 26, 2022. Photo by VINCENZO PINTO /AFP via Getty Images

Pope Francis sprinkles the blessed water enroute to the Shrine on Tuesday,July 26, 2022 at Lac Ste. Anne. Pope Francis is visiting Canada to apologize to Indigenous survivors of abuse committed over decades at Catholic Church run residential schools. Photo by Greg Southam /Postmedia

Pope Francis blesses the people as he attends the Lac Ste. Anne Pilgrimage, an annual pilgrimage that welcomes tens of thousands of Indigenous participants from throughout Canada and the United States each year, at Lac Ste. Anne, Alberta, Canada July 26, 2022. Photo by GUGLIELMO MANGIAPANE /REUTERS

Pope Francis blesses pilgrims who are attending the pilgrimage to Lac Ste Anne, Alberta, Canada July 26, 2022. = Photo by TODD KOROL /REUTERS

Pope Francis attends the Liturgy of the Word during the Lac Ste. Anne Pilgrimage, an annual pilgrimage that welcomes tens of thousands of Indigenous participants from throughout Canada and the United States each year, at Lac Ste. Anne, Alberta, Canada July 26, 2022. Photo by GUGLIELMO MANGIAPANE /REUTERS

Pope Francis waves as he arrives to give the Liturgy of the Word at the Shrine during Lac Ste. Anne Pilgrimage at Lac Ste. Anne, northwest of Edmonton, Alberta, Canada, July 26, 2022. Photo by VINCENZO PINTO /AFP via Getty Images

People watch as Pope Francis takes part in the Liturgy of the Word (Prayer Service) at the Shrine on Tuesday, July 26, 2022 at Lac Ste. Anne. Pope Francis is visiting Canada to apologize to Indigenous survivors of abuse committed over decades at Catholic Church run residential schools. Photo by Greg Southam /Postmedia

Pope Francistakes part in the Liturgy of the Word (Prayer Service) at the Shrine on Tuesday,July 26, 2022 at Lac Ste. Anne. Pope Francis is visiting Canada to apologize to Indigenous survivors of abuse committed over decades at Catholic Church run residential schools. Photo by Greg Southam /Postmedia

Pope Francis takes part in the Liturgy of the Word (Prayer Service) at the Shrine on Tuesday,July 26, 2022 at Lac Ste. Anne. Pope Francis is visiting Canada to apologize to Indigenous survivors of abuse committed over decades at Catholic Church run residential schools. Photo by Greg Southam /Postmedia

People watch a large screen as Pope Francis makes his way to the lake on Tuesday, July 26, 2022 at Lac Ste. Anne. Pope Francis is visiting Canada to apologize to Indigenous survivors of abuse committed over decades at Catholic Church run residential schools. Photo by Greg Southam /Postmedia

People watch a large screen as Pope Francis makes his way to the lake on Tuesday, July 26, 2022 at Lac Ste. Anne. Pope Francis is visiting Canada to apologize to Indigenous survivors of abuse committed over decades at Catholic Church run residential schools. Photo by Greg Southam /Postmedia
All 36 Photos for Gallery
Full Screen is not supported on this browser version.
You may use a different browser or device to view this in full screen.
Article content
Pope Francis has left the Lac Ste. Anne pilgrimage site, northwest of Edmonton, in his last public appearance in Alberta before heading to Quebec.
Article content
Pope Francis waved at hundreds of people as he was pushed in a wheelchair along a path by the shores of Lac Ste. Anne.
Event organizers say he followed the footsteps of those who have made the annual pilgrimage to the site that is believed to have healing powers.
Francis performed a blessing of the lake, then sat in silence looking out at the water.
Pope Francis spent several minutes sprinkling water he had blessed from Lac Ste. Anne onto people lined up at the annual pilgrimage site. Many in the crowd stretched their hands over a fence as he flicked water in their direction.
The pontiff used a traditional wooden tool with a brush on the end and dipped it into a bowl of water as he was pushed in a wheelchair. Pope Francis began his homily in a Lac Ste. Anne church by saying hello in three Indigenous languages — Cree, Blackfoot and Nakota. Many in the church cheered.
Article content
— The Canadian Press
---
Follow along with our live blog
---
5 p.m.
Pope Francis holds open-air mass at Commonwealth Stadium
By Madeline Smith, Hamdi Issawi 
Article content
As crowds filtered through the concourse at Commonwealth Stadium Tuesday, near a space typically reserved for beer sales, people lined up for confession.
Before Pope Francis's open-air mass began in front of tens of thousands of people, some attendees waited to see a priest seated quietly in the rush. One by one, they sat across from him, bowed their heads and spoke quietly together before he lifted his hands and gently pressed them to their forehead.
Article content
Tuesday's mass marked another major event in the pope's visit to Edmonton, and Treaty 6 territory, following a Monday appearance at Maskwacis, a community made up of four First Nations south of Edmonton. There, Francis apologized for the Catholic Church's hand in the devastating effects of residential schools on Indigenous people.
Early in the morning, attendees at the mass arrived to the rhythms of drummers from Dene Tha' First Nation, and volunteers in blue vests and caps stood by at designated mental health and cultural support booths for Indigenous people. Many people arrived in orange shirts bearing the words "every child matters."
Colleen Waskewitch-Runner came to the event in a ribbon skirt, wearing intricate beadwork by an artist from her home of Tsuut'ina Nation, just outside Calgary. She pushed her mother Beverly Runner, a residential school survivor, in a wheelchair.
Article content
She said the Pope's public apology for the harms of residential schools was "momentous" for her family, as Catholics who also follow their traditional Dene ways.
"The mass is important to have a blessing. We've lost a lot of people on our nation to cancer, to COVID, so we're here to pray for the families," Waskewitch-Runner said. "I just about lost my life to COVID in January … So it's a blessing for me that I'm still here. I'm giving thanks."
Read the full story
---
11:30 a.m.
At Mass in Canada, Pope praises indigenous reverence for elders
Reuters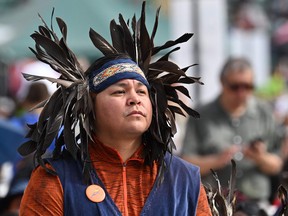 EDMONTON — Pope Francis on Tuesday praised the indigenous tradition of showing great respect for elders and learning from them, saying their memory must not be lost in modern society's "fog of forgetfulness."
Article content
Francis is on a week-long tour of Canada to apologize for the Roman Catholic Church's role in running residential schools that tore indigenous children away from their families and became places where abuse was rampant.
His words were particularly poignant for indigenous communities because the residential schools, which ran from 1870 to 1996, destroyed the link between generations so precious to indigenous cultures.
In his homily, Francis called grandparents "a precious treasure that preserves a history greater than themselves.
"This is our history, to which we are heirs and which we are called to preserve," he said.
"In the fog of forgetfulness that overshadows our turbulent times, it is essential to cultivate our roots, to pray for and with our forebears, to dedicate time to remember and guard their legacy. This is how a family tree grows; this is how the future is built."
Article content
Before the pope arrived, Phil Fontaine, a former Assembly of First Nations National Chief and a residential school survivor, reflected on Francis's visit on Monday to Maskwacis.
"I want to say to you my friends that what we really are talking about is forgiveness. We will never reach reconciliation without forgiveness," Fontaine said. "We will never forget but we must forgive. We invite the Catholic Church to rebuild the fractured relationship it had with us, for us and for all Canadians."
Read the full story here
---
Monday
'The world heard it': Pope Francis apologizes
By Hamdi Issawi and Madeline Smith 
Article content
Some wrongs need more than one apology.
Thousands gathered Monday morning in Maskwacis where Pope Francis apologized again, this time on Canadian soil, for the Catholic Church's role in the harms Canada's residential schools inflicted upon Indigenous people, specifically "cultural destruction" and "forced assimilation."
Delivered in Spanish in the community's Maskwa Park, the gesture was one that many expected and appeared to be accepted as the audience repeatedly interrupted the pontiff's apologies and pleas for forgiveness with applause.
"I humbly beg forgiveness for all the evil committed by so many Christians against the Indigenous peoples," a translator for Francis said in English. "Sorry for the ways in which, regrettably, many Christians supported the colonizing mentality of the powers that oppressed the Indigenous peoples. I am sorry."
Article content
In his address, Francis also noted that the apology isn't the end of the conversation as he travels across Canada to encounter Indigenous communities in a "penitential pilgrimage."
"An important part of this process will be to conduct a serious investigation into the facts of what took place in the past and to assist the survivors of the residential schools to experience healing for the traumas they suffered," Francis said. This statement, too, earned an applause from the audience, which erupted again when Wilton Littlechild, one of the commissioners of the Truth and Reconciliation Commission, climbed the stage placed a headdress on the Pope.
Speaking to Postmedia following the Pope's address, Chief Calvin Bruneau of the Papaschase First Nation said he received it with mixed feelings.
Article content
"On one hand it is good to apologize, but they left out specific details in there that people wanted to hear," said Bruneau, noting there was no specific mention of genocide, nor the Doctrine of Discovery — a legal framework that empowered European Christian colonization, and something many have called on the Pope to renounce.
Read the full story here
---
Monday
Crowds gather for Pope's visit to Sacred Heart Church of the First People
By Hamdi Issawi and Kellen Taniguchi
Article content
People attending Pope Francis's first public appearance in Edmonton hope his Canadian visit is an opportunity to highlight the history of residential schools in Canada for those who've been left in the dark.
After issuing a second apology Monday morning for the Catholic Church's part in the harms caused by residential schools, Francis appeared before an audience at Sacred Heart Church of the First Peoples, an Indigenous church in central Edmonton.
Drummers in and outside the building announced his arrival. Sitting before about 250 people in the pews, he took in a song from the choir, which appeared to strike an emotional cord with the pontiff when he buried his face into one of his hands during the performance.
Article content
Before delivering his first apology in April, Francis said he reflected on the stories he heard from delegates who visit him in Rome. That experience led him to the belief that a path to healing requires "concrete action," he told the audience.
"So I am pleased to see that in this parish, where people of different communities of the First Nations, the Métis and the Inuit come together with non-Indigenous people from the local area and many of our immigrant brothers and sisters, this effort has already begun."
After making an address in Spanish that touched on the topic of reconciliation, he led the church in prayer and exchanged gifts with several members of audience who offered him several works of art as well as a blanket, Métis sash and an eagle feather.
Article content
As Pope Francis left the church Monday evening, he was met with screams from more than 100 people outside as he made a lap around the street outside and waved to visitors waiting for him on the other side of a gated perimeter.
Read the full story here
---
Monday
Pope apology brings hope but action remains to be seen: Singh
By Ashley Joannou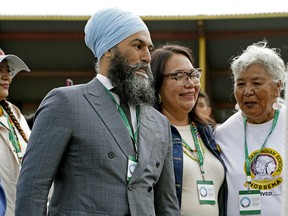 Federal NDP Leader Jagmeet Singh, who attended the apology with other NDP representatives including Edmonton Griesbach MP Blake Desjarlais, said in an interview with Postmedia that from what he's heard, the Pope's commitment to action gave people a sense of hope but what that action will look like remains to be seen.
"The Pope made it clear in his apology that the church was responsible for some atrocious things against indigenous people and that was very unequivocal," he said.
Article content
"So now it's really hard for someone to deny that horrible impact when the church, which was responsible for overseeing these institutions, accepts that it was a horrific impact on Indigenous people."
---
Monday
Alberta prosecutors seek to delay some criminal cases due to papal visit disruptions: defence lawyers' association
By Jonny Wakefield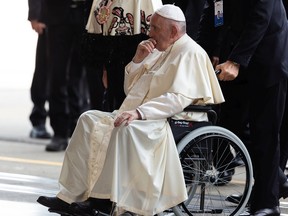 The head of an organization representing Alberta defence lawyers says prosecutors have sought to delay some criminal court proceedings over disruptions caused by Pope Francis's visit.
Danielle Boisvert, president of the Criminal Trial Lawyers' Association, estimated there are "dozens" of cases in which Crown lawyers have sought adjournments to avoid traffic and parking snarls caused by the Pope's trip to the Edmonton area.
Article content
"The inability to accommodate situations such as these cause the justice system to grind to a halt," Boisvert said in an email Friday. "Crown prosecutors have a duty to bring matters to trial and ought to have planned ahead for the Pope's visit."
Pope Francis arrived in Edmonton Sunday to begin what the Catholic Church calls a "pilgrimage of penitence" for its role in the residential school system.
Traffic delays and road closures are expected to accompany the visit as the papal motorcade makes its way to sites in Maskwacis, Edmonton and Lac Ste. Anne.
Provincial court cases in Wetaskiwin were cancelled entirely Monday, the day Pope Francis travelled to nearby Maskwacis for an expected apology to residential school survivors.
Read the full story here
---
Wednesday — July 27
On his final day in the province, Pope Francis will make an early-morning trip to the airport ahead of a scheduled 9 a.m. departure.
Once again, parts of the QEII will be restricted as the motorcade travels to the airport.