"Winter is normally hard, but this one seems particularly hard: we have 11,000 cancellations daily in NSW alone at the moment," Stone said.
However, Stone stressed the rule about British expats had not been changed due to supply concerns, but because the science showed it would be safe.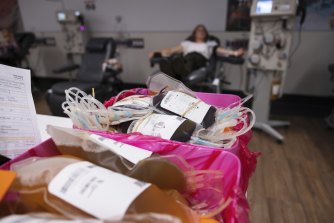 Australia is one of the first countries in the world to change blood donor rules for former British residents, who have been restricted from donating blood due to historic outbreaks of variant Creutzfeldt-Jakob disease, or mad cow disease, in the country.
The change is supported by modelling from the Kirby Institute, which showed the risk of acquiring variant Creutzfeldt-Jakob disease from a blood transfusion in Australia was about one in 1.4 billion, and this risk would continue to decrease over time.
"In all our models, we took a wide range of assumptions and considered worst-case scenarios, and still found the risk to be extremely low," said Professor Matthew Law, head of the Kirby's biostatistics and databases program.
Only two cases of the disease have been recorded worldwide since 2015.
Ireland lifted its ban on donors who were former UK residents in 2019, and the UK itself changed its rules – which only restricted use of local blood plasma – in 2021. This year, the US Food and Drugs Administration also determined local blood services could remove restrictions, which is expected to occur progressively over coming months.
"As time has passed, and we have over two decades worth of scientific evidence now, it's time," Stone said, noting she hoped the change would also encourage some of the 11 million Australians already eligible to donate to book in.
How to book a blood donation appointment
Visit the Lifeblood website or call 13 14 95 to determine if you are eligible to donate.
Book into a donor centre. LifeBlood is expecting to have a rush on appointments with the change of eligibility for UK residents, Stone says, but will also need more new donors to join right throughout winter.
The day before you donate, drink lots of water (10 glasses for men and eight for women). Three hours before your appointment, have about 750ml of water (three glasses) and eat something savoury. Do not do strenuous exercise the day of your appointment.
Be sure to bring ID showing your full name, date of birth, address, signature and photo to your appointment. Make note of any medications you take so you can tell staff.
Another group still prohibited from donating blood is men who have sex with men, who must abstain from sexual activity for three months before donating, a rule put in place due to HIV rates.
But with Australia approaching elimination of HIV, Stone said LifeBlood was "working on a submission" for the Therapeutic Goods Administration to change its rules to allow plasma donations.
The Morning Edition newsletter is our guide to the day's most important and interesting stories, analysis and insights. Sign up here.