The temperature is set to spike to 31 C inland in Metro Vancouver on Sunday, which also marks one year since B.C.'s deadly heat dome.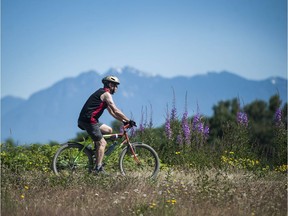 Article content
The first day of summer may have been cool, but forecasters say it's about to get toasty in Metro Vancouver — up to 10 C hotter than normal.
Article content
Environment and Climate Change Canada is forecasting temperatures will spike to 31 C inland on Sunday, while closer to the water it will be around 25 C. A long stretch of sunny weather is expected to start Thursday in the region and continue until at least next Tuesday.
The summer sizzling temperatures come as B.C. marks a year since the province's deadly heat dome when temperatures soared over 40 C.
Armel Castellan, a meteorologist with Environment and Climate Change Canada, said the average temperature for this time of year in Vancouver is 20 C and in the Fraser Valley 21 C.
He anticipated the federal weather agency would issue a special weather statement for heat closer to the weekend, to alert people to the fact that it is going to be much warmer than they are used to right now.
Article content
A heat warning is only issued if temperatures in Vancouver and on Vancouver Island will be 29 C or higher for two or more days and 33 C or higher for two or more days in the Fraser Valley.
"That's still five days away. So the Sunday 31 C that we are talking about could edge up towards 33 C, that's not impossible," he said Tuesday.
"We haven't seen too much heat, so it's going to be a little bit of a shock on anyone's physiology, but mostly for the higher risk populations."
He also reminded residents that they won't be used to the UV rays, so it's a good time to pack sunscreen or hats and clothing to protect skin from the sun.
Also of concern, is that many people will want to get outdoors this weekend because of the sunny weather but there are some increased safety risks at the moment. Rivers are high as the freshet peaks, and Castellan is worried the nice weather may lead to risky choices.
Article content
"All those rivers are basically peaking and so it because it's coming with a the first weekend of summer, you can bet a lot of people will be out trying to find water bodies but there is going to be shockingly cold water and very high flows. So there will probably be fatalities this weekend. And so the more we can talk about that the better," said Castellan, adding that the avalanche risk is also climbing.
"A lot of cornices haven't dropped so people in the backcountry are going to find there is a very high danger."
Castellan said the weather for Metro Vancouver will likely be above normal until at least Tuesday, while high temperatures may persist in the B.C. Interior longer in the week.
He noted that while it is going to be hot this weekend, forecasters do not expect an extreme heat wave or heat dome like the one last July.
Article content
Between June 25 and July 1, 2021, temperatures rose above 40 C in many parts of B.C. and led to 619 heat-related deaths in the province. Many records were shattered including Lytton, where the temperature hit 49.6 C.
A day after Lytton set that record, the town burned down in a massive wildfire caused from railway sparks and scorching temperatures.
Meanwhile, the wildfire danger rating remains either low or very low for much of B.C. But there are pockets of Northern B.C. under a high danger rating. And with temperatures set to go above 30 C in that region, B.C.'s fire officials are on alert.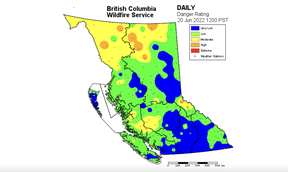 Fire information officer Andrea Heath said at this time last year B.C. firefighters were battling 310 wildfires, compared with 166 wildfires (with none of note) as of Tuesday.
Article content
She said fire officials are aware of a warming trend this weekend and are ready to respond to any new fires that break out. They are concerned about lightning strikes following the ridge of high pressure but the strikes should be accompanied by precipitation.
Heath said that many parts of B.C., especially the Interior, are dealing with a lingering drought from last year and so they are monitoring higher risk areas like the Okanagan.
There is also some concern over human-caused wildfires, as people get outside to enjoy the first official weekend of summer. Campfire bans usually come into effect around June 30 but officials can move it up sooner if the fire risk increases.
She encouraged all B.C. residents to download the B.C. Wildfire Service app, which she said is the best place to report a wildfire. Folks can also call 1-800-663-5555 or *5555 on a mobile phone.
For tips on how to stay cool, read Cheryl Chan's "How to prepare yourself and your home to beat the heat."
ticrawford@postmedia.com