The lone suspect has been taken into custody, said Langley RCMP.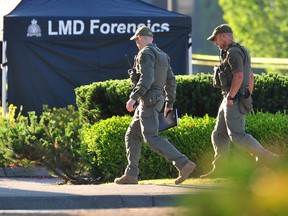 Article content
One man is in custody after an early Monday morning shooting spree in Langley.
Article content
RCMP said officers responded to several reports of shots fired with multiple victims at different spots throughout the City of Langley and in one incident at the Township of Langley.
It is not clear whether the victims were injured or have died from the shootings.
One man, who identified as homeless, said he rushed to Langley Centre after friends told him another homeless man had been shot in the area. "I saw ambulance try to revive the guy," he said.
The man asked his name be withheld fearing retaliation from the shooter. "It's so sad. I hope they are able to identify who this man is and tell his family."
Authorities issued an emergency alert about the shootings out of an abundance of caution, said police.
The alert, sent out to mobile phone users across the Lower Mainland around 6:25 a.m., warned about several shootings. One incident involved "transient victims" in the Township of Langley.
Article content
The alert included a description of a man: Caucasian with dark hair, wearing brown coveralls, and a blue and green camo T-shirt. The man is also associated with a white car. "Police have interaction with (one) suspect," said the alert. "Unknown if others involved at this time."
About an hour after the alert was issued, a second notification was sent out, saying the suspect "is no longer a threat."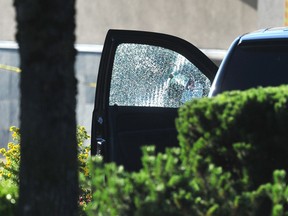 Jess Lee was heading to work on the Langley Bypass when her car was blockaded by a large police presence on 200th Street.
At first she assumed it was a car accident. But after seeing police charging the area with rifles in hand, she knew another event was unfolding.
"There were at least 15 police cars gathered in one area," said Lee. "One for sure was kneeling on someone, holding them down."
Article content
Although the second alert said police are still trying to determine whether more than one suspect was involved in the shootings, Langley RCMP said investigators believe the lone suspect is now in custody.
A white car riddled with bullet holes could be seen in a strip mall parking lot near 200 Street and the Langley Bypass. A truck with a smashed-out window is also in the lot, along with a forensics tent.
Nearby, a pair of shoes and a backpack could be seen strewn across the sidewalk along 200 Street.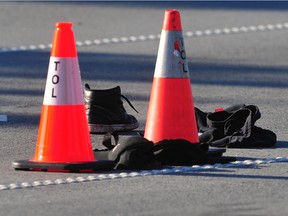 A second forensics tent could be seen at the Langley bus loop located at Logan Avenue and Glover Road near the MIssion Thrift Store.
A third area outside Cascades Casino near Fraser Highway and 204 Street has also been cordoned off. Behind the police tape, a shopping cart containing what appears to be personal belongings stood underneath a tree.
Article content
By 8 a.m. a small group of people had gathered on cement benches outside the casino, a few hundred metres away from the cordoned-off site.
One of them, a middle-aged woman who identified herself to Postmedia as homeless, said that from that vantage point, she heard the screams of a woman earlier that morning, followed by the pop of gunshots.
"She looked like she had been sleeping," the woman said.
Police said the case remains an active investigation and asked the public to avoid: 200 Street and Langley Bypass; the Langley bus loop; and the parking lot of Cascades Casino located at Fraser Highway and 204 Street. 
The Integrated Homicide Investigation Team has been called in.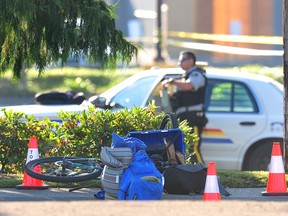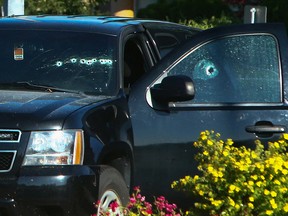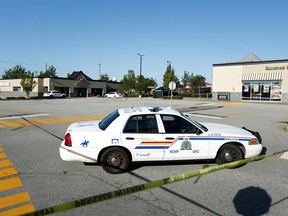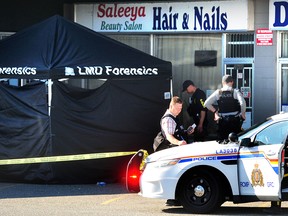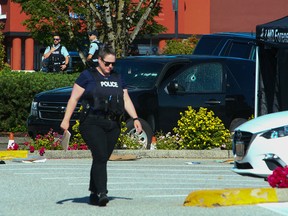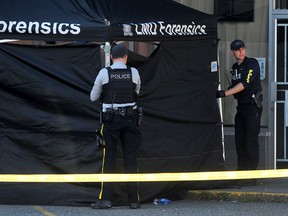 More to come…
chchan@postmedia.com
sgrochowski@postmedia.com