MUSIC
Playing Victoria: King Gizzard & The Lizard Wizard, Amyl and The Sniffers, Baker Boy, Vika & Linda, Grace Cummings and Her Band
Sidney Myer Music Bowl, October 30th
The sign spells "WOO". Lovingly hand-painted on three sheets of yellow cardboard with a certain psychedelic flair, it's mainly for the Gizz, says Benji, even though his partner Durham is more of an Amyl fan.
"I'm here for everyone," says third sign holder Dan, opening his arms to the sky. Fair call. If a single thought bubble could sum up the mood on this occasion from seated stage in front to carefully spaced picnic rugs on the hill, "WOO" would do well.
Extensive under threatening but mostly benign clouds, the flagship Play On Victoria concert is billed as a "COVID-safe test event". With a limited number of tickets just south of 4,000, it discarded the box office in a matter of hours last week.
Homemade psychedelic voyagers King Gizzard & Lizard Wizard could have sold it out on their own. Likewise, middle finger mullet punks Amyl and the Sniffers. Both are fierce international players. But Play On Victoria is about solidarity, not pickpocketing.
"You need to get away to get back," Grace Cummings barks after openers. She's not the type to wallow in self-help phrases for those who feel fragile from lockdown. She is serious about her band's first electric chord. Her voice is a bone-shaking boom and her attack is anything but polite.
The seven-piece line-up transforms to include acoustic strings, violin and saxophone, but Cummings' dominant presence and growling blues-rock delivery is most of the show. It tops off with ebb and thunder drama Storm queen. Not a trembling soul will leave it unchanged.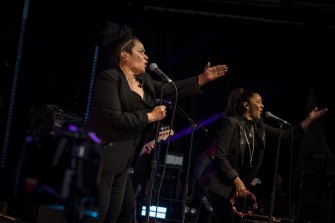 Suitably introduced as "Fitzroyalty", Vika and Linda Bull take up the gauntlet with another seven-man ensemble led by guitarist Ashley Naylor and Waiting time – their first album with original material in almost 20 years.
On a bill that mostly skews the youth market, the sisters' incomparable voices and their band's pedigree cut through with new tunes by Kasey Chambers and Don Walker (look them up, kids) and the kind of shimmy that pulls the first dancers out of their chairs .