Queensland leaders have condemned the appearance of a Nazi flag over the Brisbane Synagogue a few days before Jewish community celebrates one of its darkest events.
Police were called after the flag flying from a window in the nearby UniLodge student building on Margaret Street in the CBD was spotted Saturday morning.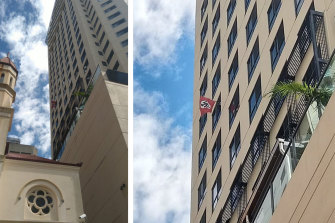 The flag has since been seized and a 45-year-old man from Brisbane was ordered to appear in court for a charge of public nuisance. The housing provider has been contacted for a comment.
The incident marks the latest in a series of recent displays of Nazi-related symbols across the state, amid warnings from law enforcement agencies of rising right-wing extremism.
It also comes amid pressure to ban such symbols across the country, and as a parliamentary inquiry in Queensland examines the prevalence of hate crimes and slander, and whether anti-discrimination laws should be strengthened.
Queensland Jewish Board of Deputies Vice President Jason Steinberg described the show as "shocking" just days after the celebration of Crystal Night on November 8, when the Nazis staged a wave of attacks on Jews in Germany and Austria in 1938.
"Seeing a Nazi flag hang over a synagogue when we are going to celebrate that event is disturbing," Mr Steinberg said. "That flag is a symbol of pure hatred."
Steinberg, whose organization has submitted a post to the Queensland survey, said the use of swastikas should be banned and enforced with stricter penalties.