"Waits are never great for anyone, but the consequences of a child having to wait too long for care can be significant on their learning, on their development and on their whole family."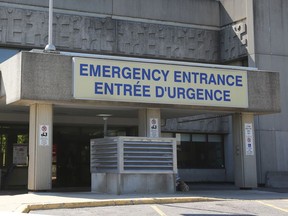 Article content
Amid a worsening health-care crisis in Ontario, Ottawa-area hospitals stand out with some of the longest emergency department wait times in the province. At the top of the list locally is CHEO.
Article content
Children needing emergency care at CHEO are waiting an average of 3.4 hours for an initial assessment by a doctor compared to a provincial average of 1.9 hours, according to Health Quality Ontario.
That is one of the longest emergency department wait times in the province, and it is symbolic of the state of children's health services across Ontario right now, says Alex Munter, president and CEO of CHEO.
"In Ontario today, for almost any service, kids will wait longer than adults," Munter said. Children wait four times as long as adults for MRIs and the majority of children will not get surgery within the clinically recommended timeframe.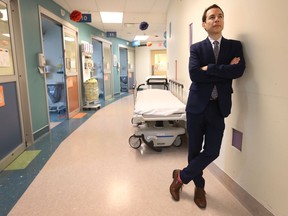 In addition, children and youth wait up to three times longer than adults for outpatient mental health treatment, a need that has grown dramatically during the pandemic with rising rates of depression, anxiety and eating disorders.
Article content
At a time when many are calling attention to the crisis in health care, especially seen in overflowing hospital emergency departments and critical nursing shortages, Munter says the situation in children's health care requires urgent attention.
"Kids should not be waiting longer than adults for health care."
Not only are children waiting longer than adults for needed health services, but those waits can have a more significant impact on their well-being.
"Waits are never great for anyone, but the consequences of a child having to wait too long for care can be significant on their learning, on their development and on their whole family," said Munter.
"The impact of children's illness and children being unwell can affect their life trajectory and can also affect everyone around them. That is why we feel a sense of urgency."
Article content
Munter is among pediatric health leaders calling on the province to take significant measures immediately to improve children's health care.
The Children's Health Coalition, a group that includes Ontario's children's hospitals and other pediatric health organizations, is asking the provincial government to commit $1 billion over four years for a comprehensive health-care plan for children. The group is asking for a summit to agree on principles for a long-term children's health strategy.
During the provincial election campaign, the group asked the next government to commit to its Make Kids Count plan within 100 days of being elected. Twenty days after the June 2 election gave the Progressive Conservatives, led by Doug Ford, a majority mandate, the premier has yet to name a cabinet. That is scheduled to take place Friday.
Article content
Ford told Global News Tuesday the legislature will be sitting in the summer and that he has been consulting with former health minister Christine Elliott about who will take over the file.
Munter said the Children's Health Coalition hopes to engage with the new health minister and the government over the next few months.
Ontario's pediatric health system is dealing with multiple surges at the same time that are contributing to the increased wait times in emergency and elsewhere.
At CHEO, those include "displaced" viral season activity usually seen in the late fall and winter on top of other issues that bring children and youth to the emergency department. The hospital is also seeing the impact of deferred care and the impact of the pandemic on child and youth mental health.
The Children's Health Coalition proposal is asking for $250 million a year for four years, something the group calls manageable, given the health budget is $75 billion a year.
"The investments required to do right by kids are very manageable within the overall context of the provincial health budget," said Munter.
"What has changed from an urgency perspective is that kids are now waiting longer than adults for almost everything. Nobody wants that. Nobody thinks that is OK."