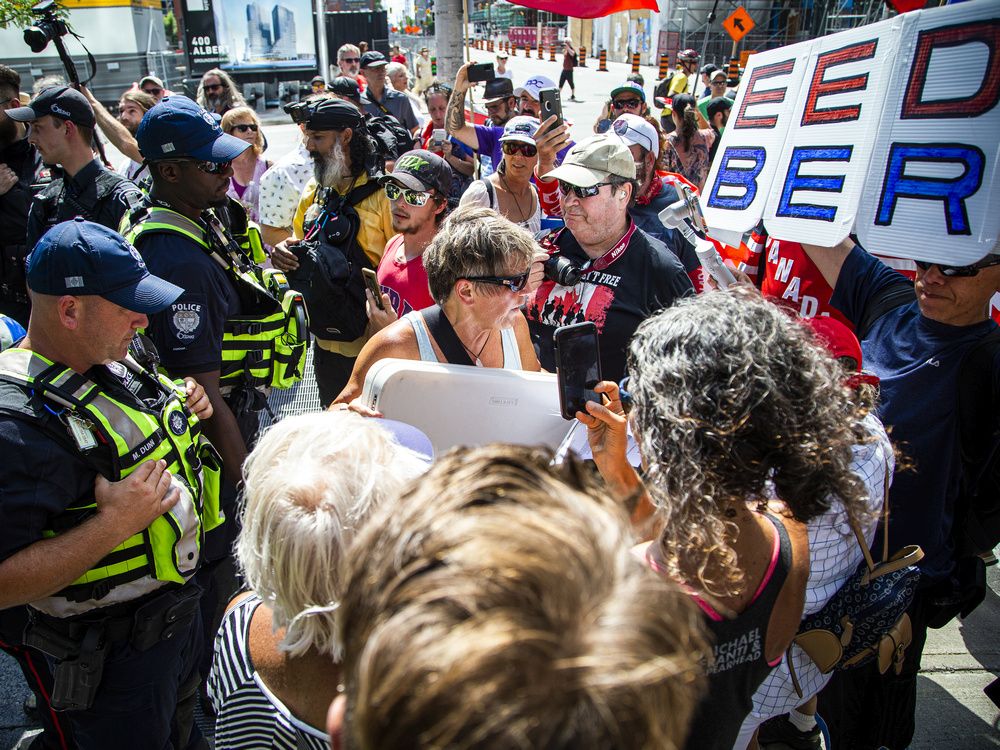 Article content
We apologize, but this video has failed to load.
Ottawa police made one arrest in weekend 'slow-roll' ahead of protest starting at Dutch embassy
Back to video
According to police, "an uncooperative and large group of vehicles attempted to enter the downtown core, caused disruption to the regular flow of traffic in various parts of the city and refused to leave.
"As a result, one arrest was made, and obstruct, and public mischief charges were laid."
The events organized by "Freedom Fighters Canada" included a "slow roll" on Highway 417 from rally points including Kanata, a rally at the Embassy of the Kingdom of the Netherlands on Albert Street and then a march along city streets to the National War Memorial and Parliament Hill.
Ottawa's bylaw department reported 103 tickets were issued and 12 vehicles towed Saturday in enforcement of a "vehicle exclusion zone" in the streets surrounding Parliament Hill.
Article content
Officers were on the streets aiming to minimize disruption to residents, businesses and tourists, police said, while watching "convoy movements" including temporarily closing Highway 417 off-ramps to keep protest vehicles out of the core.
A heavy police presence was visible Saturday as officers kept ahead of what police called a "snake march" through the core with rolling road closures for safety.
The effort took "a significant amount of policing and municipal resources," police said, noting city traffic managers, bylaw officers, firefighters, paramedics plus the Ontario Provincial Police and the province's ministry of transportation all took part.
"We discourage the use of vehicles for any form of demonstration or causing significant disruptions to allow us to serve our community," Ottawa police said.
"We encourage people and groups to exercise their Charter Rights in a legal, peaceful manner, considerate of the rights and freedoms of others."
Also: Echoes of 'Freedom Convoy' as protest backing Dutch farmers moves from embassy to war memorial, Parliament Hill