Rapper was gunned down in May 2020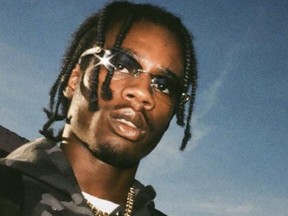 Article content
It started as a routine traffic stop by Peel Police and wound up being something much more significant.
Article content
In this car near an establishment on Eglinton Ave. E. last week in Brampton was one of Canada's most-wanted fugitives.
In fact, this suspect was on the lam since May 2020 for his alleged involvement in the high-profile Entertainment District slaying of 21-year-old rapper Dimarjio Jenkins, better known by his stage name Houdini.
This suspect, while believed to not have fired fatal shots, is wanted for alleged shooting and gun crimes connected to the incident. He was 17 years old at the time of this shocking murder but subject to a Canada-wide warrant for arrest by Toronto Police, who have been looking for him for him for 27 months.
Now they have him.
Toronto Police are still investigating the murder and a later shootout at a vigil. Nabbing this alleged participant is a significant development.
Article content
It was Peel Police's STEP (Strategic Tactical Enforcement Patrol) unit that was enforcing the alleged driving infraction that led to the arrest of the now 19-year-old, who still can't be named per the Youth Criminal Justice Act.
"Two guns were located in the car," said one law enforcement source who had been working on trying to locate this suspect for more than two years. "This was a very dangerous situation."
Slain Toronto rapper Houdini unable to escape gun violence

Boy, 17, wanted for role in shootout that killed talented Toronto rapper Houdini
But the source said the Peel Police STEP officer kept great composure.
"The officer didn't realize who this was at first and fake identification was presented," said the source. "It didn't take very long for them to discover he was wanted on a Canada-wide warrant."
He will appear in court on the new gun charges and is being investigated further for his alleged role in the Houdini shooting. In the meantime, one Toronto officer involved in this case told the Toronto Sun how grateful they were that Peel's STEP team captured someone who had been eluding them for so long.
"That was excellent police work," the officer said.
A boy, 15, and a woman, 27, were also injured in the shooting.
Anyone with information can call 905-453-2121, ext. 3515, Peel Crime Stoppers at 1-800-222-TIPS, or visit peelcrimestoppers.ca.