Operating similarly to legitimate businesses, the brothers allegedly purchased drugs from wholesalers and then packaged them into small amounts – half a gram of cocaine or one or two pills – for home delivery.
The brothers were among the state's biggest Dark Web dealers when they were arrested in April, the culmination of a two-year investigation by the State Crime Command's cybercrime squad.
The length of time they had been allegedly selling drugs made them stand out among the thousands of Dark Web drug vendors across the state and "hundreds" of organised or serious criminal players in the space, cybercrime commander detective superintendent Matt Craft said.
"It started as we do with any investigation, looking at the individuals and who may be involved and working backwards from there," he said from the cybercrime squad's top-secret headquarters, a nondescript high-security building in Sydney's west where the 70-strong squad investigates Dark Web dealings, online scams and business email compromise.
Like most vendors on the Dark Web, who depend on positive reviews to generate new business, the brothers' alleged operations were highly professional.
"Your reputation is everything," Craft said.
Investigators seized cocaine, MDMA, powders suspected to be drugs, thousands of tablets and about 17 kilograms of lollies police say were laced with THC during the raid on Busse's high-end Rose Bay unit from where they were allegedly running their operation.
Close to $60,000, multiple phones, computers and a ring worth $100,000 were also seized, with the NSW Crime Commission having begun proceedings to confiscate Busse's assets.
"If you look at what we've been able to seize in terms of property, it's been millions of dollars that we would allege would be obtained as a consequence of criminal behaviour," Craft said.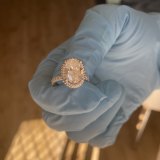 Police also seized millions of dollars worth of assets from married Lake Macquarie couple Matthew Crawford and Nicole Wood when investigators swooped on the pair in April.
From an e-cigarette shop in Belmont that police say was a front, the couple were allegedly selling vape pens containing tetrahydrocannabinol, also known as THC, the primary psychotic compound in marijuana.
Wood has been charged with 10 drug supply offences, while her husband is facing 14 charges.
They both remain in prison on remand.
Craft said these two arrests show the challenge of policing across borders where anonymity is built into the crime.
"If people are operating on the Dark Web, it's only a matter of time before NSW Police or our partner agencies are knocking on your door. We will take your assets and we will put you before a court."
The Morning Edition newsletter is our guide to the day's most important and interesting stories, analysis and insights. Sign up here.