Sydney will be transformed by three long-mooted public squares in the heart of the city, wider footpaths and harbour swimming pools under a City of Sydney plan to turn more urban spaces over to people by 2050.
The council's long-term strategy for what post-pandemic Sydney could look like in 30 years includes better connections to culture, Indigenous history and the harbour, and the progressive greening of the city centre.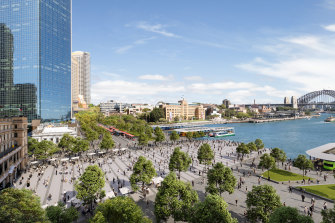 Lord Mayor Clover Moore, who won a historic fifth term in office in December, said the strategy was a continuation of the council's Sustainable Sydney 2030 vision, released in 2012, and there was "more work to do".
"All successful cities have long-term plans to ensure their economies and communities prosper, business invests with confidence and all governments work together providing essential infrastructure and services," she said.
Loading
But one councillor has criticised the strategy as a "copy and paste" of the 2030 strategy that failed to show how the council could make Sydney "the undisputed greatest city in the southern hemisphere".
The council began an extensive public consultation process for the new plan in 2019. It used conversations with residents, children, workers, businesses, visitors from all over Sydney, First Nations people and a citizens' jury to shape the strategy. Common themes included the desire for climate action and equitable access to the city.
This research helped determine 10 "aspirational" city-shaping projects the council hopes to realise by 2050. They include the long-planned pedestrian spine along George Street linking three major public squares at Central, Town Hall and Circular Quay.
The council has slowly been acquiring a parcel of properties across George Street from Town Hall for the past 10 years, in the hope of creating a rare open space in the city. The proposed public domain at Circular Quay, aimed at improving access to the waterfront, would require the removal of the Cahill Expressway.