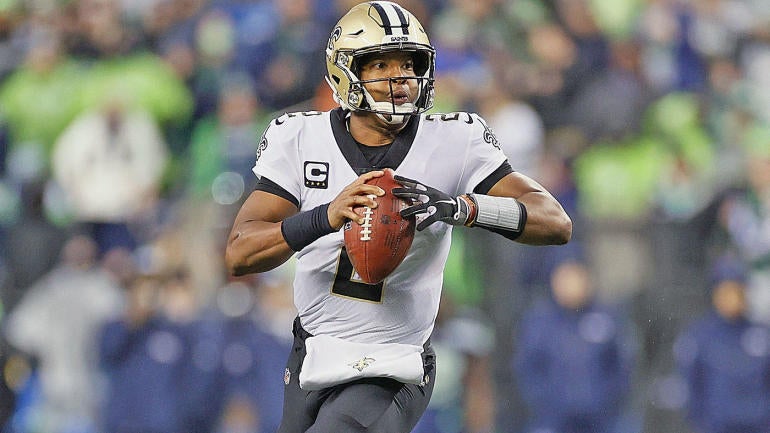 Getty pictures
Jameis Winston was helped off the field after suffering a knee injury in the second quarter of the Saints' Week 8 home game against the Buccaneers. Winston was ruled out for the rest of the match after initially being hesitant to return.
Winston left the game after being tackled by Buccaneer's linebacker Devin White on a running game. White was punished on the piece for making a horse collar tackle. Winston tried to leave the field of his own accord before falling on the turf. He was driven off the field after spending time in the team's medical tent.
After the game, Saints coach Sean Payton described the injury as "significantly, "and NFL Networks Jane Slater reported that the injury was Winston's ACL.
With Taysom Hill (concussion) inactive, Winston was replaced by backup Trevor Siemian, a seven-year veteran who had not previously attempted to hand over since the 2019 season. As the seventh round of the 2015 draft, Siemian made 24 starts for the Broncos in the 2016 and '17 seasons. He has a record of 13-12 starting with 30 touchdowns and 24 interceptions. Siemian entered Sunday's match with a career completion rate of 59.2%.
Winston won his position fight over Hill after sitting behind Drew Brees during his first season in New Orleans. Through six games, Winston had completed nearly 59% of his throws with 13 touchdowns and three interceptions. Winton's game helped the Saints get out to a 4-2 start.
Despite the loss of Winston, the Buccaneers Saints held on to defeat the defending champions, 36-27. If Winston were to lose time, Hill would probably step into the starting lineup, though Siemian could get a chance if Hill is unable to return from his concussion yet.