The pent-up requirement to return to Bunnings after lockdown could be quantified by the line at the sausage stand on Saturday morning.
"We usually sell between 800 and 1,200 sausages," said Joe Connellan of the Moreland Rotary Club, who ran the first post-lockdown charity work in the "big green shed" in Coburg on Saturday.
"Today I reckon we'll get a good chunk over it – I said to my friend yesterday, 'if people are not going out of Melbourne this weekend, they're going to Bunnings'."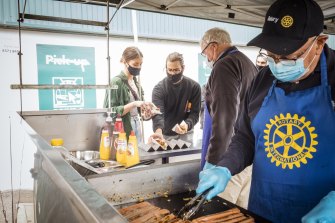 The smell of sizzling onions was a clear sign that Melbourne's Saturday morning is returning to normal. Aside from brunch, visiting Bunnings is a kind of religion in this town.
"A friend wrote on Facebook [this morning] that she came here for a sausage. I said, 'okay, that's where we're coming from today,' 'said Yvette Jones as daughters Riley, 7, and Charley, 4, hid in their closet.
Ms Jones and her husband Tony had bought the wrong size fly blankets online during the lockdown and they had to wait until the retailer reopened to exchange them.
"So now we've just bought the right size, plus we've got some gutter hooks for Christmas decorations, [and] we have some beautiful white roses blooming at home, so we got some Rose Shield, "said Mrs. Jones.
The family enjoyed the worldly pleasure of walking around the shops again, including visiting a bike shop to inspect some two-wheeled gifts for the girls from Santa Claus.