Article content
IPPERWASH BEACH – Police called in. Venting on social media. And worries things could get rougher yet.
Article content
Tempers are flaring on a stretch of Southwestern Ontario's Lake Huron shore amid complaints of trespassing and bullying as frustrated cottage owners clash with beachgoers over access to the sand and water on their private property.
The stand-offs haven't come to fisticuffs, but some fear that's only a matter of time.
"That's a huge concern for all of us — whether we're beachfront, someone that is in a trailer park or a tourist," said Paulina, a lakefront cottage owner who didn't want to be fully identified, fearful of retribution.
"It tarnishes the whole name of the area," she said of the troubles.
Paul Montgomery, another lakefront cottager, said he hasn't seen any major confrontations, but is aware there've been some farther down the shoreline at Ipperwash Road.
"I've heard around their cottages, both east and west of that road, people having some real – not fistfights, but real yelling matches and police being called," he said. "It's like a bunch of adults acting like children sometimes – on both sides."
The dispute is playing out at Ipperwash Beach, about an hour northwest of London, but at its core it involves an age-old issue – private versus public beach access – that's flared up before in Southwestern Ontario, home to many cottages along the region's Great Lakes shorelines.
Donna Dimmel, a year-round beach cottager, said they've had belligerent people argue over their right to plunk themselves down in the middle of their family gatherings.
"Nothing we say makes them understand and they just bully back," she wrote in an email.
Article content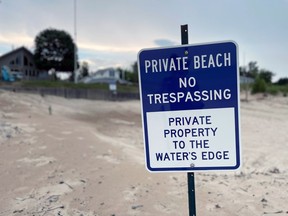 Mayor Bill Weber of Lambton Shores, the municipality that takes in the area, said it all comes down to a lack of respect.
"I think a lot of it could be resolved if people just had a little respect for each other," he said.
The main issue, cottage owners say, is that they own the beach in front of their properties either to the high-water mark or to the water's edge, depending on their deeds.
But many people going to a nearby public beach off West Parkway Drive, owned by the Crown, either don't realize that or don't care and set up on their private turf, they say.
Just walking by the water's edge is one thing, many say. But settling in and getting comfy, with towels, tents and barbecues, goes too far, they say.
A similar issue, one also involving a nearby public beach, hit a boiling point near Midland more than a decade ago after a couple built a six-foot-high wooden fence to the water's edge on their beach along Georgian Bay to keep trespassers out.
The mini-wall was torched and chain-sawed, and other violence erupted, before the case wound up in court where the owner and his son were found not guilty of assault charges.
While many beaches in Ontario are publicly owned, the rules are murkier for public access to the water and sand along privately owned beaches. In some cases patents guarantee public passage and some beaches have road allowances, or strips of land reserved by the Crown or a municipality, where people walking through should not be an issue.
"Ownership would have to be confirmed by looking at individual patents to determine what is private and what is not," spokesperson Anita Tamrazi of Ontario's Ministry of Natural Resources and Forestry said by email, adding "waterfront property boundaries are sometimes complex."
But if a property is owned right to the water's edge, and there's no shoreline allowance, an owner may have good grounds to keep outsiders out, says real estate lawyer Ryan Martin.
"I would say if you can show proof that, yes, (the owner) does, in fact, own the tract of land all the way up to the edge of the water, I think people are going to have a really hard time saying that's a public beach," the Toronto lawyer said.
At Ipperwash Beach, some say they're tired of having to prove to outsiders that they own their beaches. Sensitive to unwanted backlash, they don't want their full names used, either.
Paulina's husband, Henry, said for two years he walked around with the deed to his property in his back pocket.
"As somebody who lives in a city, it's frustrating that every weekend you have to prove that you actually own your (cottage) property," he said.
A couple that owns a cluster of lakefront cottages they rent out say they've run into the same issue. Most beach-goers who venture onto their property leave after they explain things to them, said Wayne and Christine.
"But there's a large handful that do not and they become belligerent, aggressive," he said.
"Hence, why the OPP get called," she added.
Lambton OPP confirm they've been called to the area, but say there've been no physical altercations and no charges laid.
Montgomery, 68, whose family has owned cottages in the area since the 1950s, said he can see both sides of the debate.
"There's some people that are getting really bent out of shape because somebody put their towel in front of their so-called private beach," he said, adding those owners are also paying steep prices and taxes for their beach properties.
"I can understand when somebody pays a couple million bucks for a cottage that they want certain things, so we need to appease them without ruining the whole vibe of the beach where people walk from one end to the other end and they feel safe," he said.
The debate has spilled over to social media, with some people complaining about some cottage owners bullying beach-goers with a get-off-my-lawn mentality.
"If you hate people so much enjoying the beach, then don't have a place on a beach like Ipperwash," one person posted. "It's the same mentality that people who buy houses on a golf course and proceed to complain about the golfers."
Another said they saw an owner call police on a family sitting at the edge of the water, hundreds of feet from the owner's place. "I seriously cannot comprehend the threat beachfront owners feel to a family sitting on their portion of the beach."
Montgomery said he went through the issue firsthand when he bought a second lakefront cottage six months ago. His lawyer told him his deed says he owns to the water's edge, but there is a built-in assumption the public is able to walk by along that edge. But how much of that space they can use while walking by, is a bit of a grey area, he added.
---
"Squabbles over beach ownership and access surface from time to time, often after properties change hands, and have become more frequent since the pandemic struck, with more urban people moving to rural properties."
— Terry Rees, executive director, Federation of Ontario Cottagers' Associations.
The situation at Ipperwash Beach "is very complicated," with a stretch of the beach divided into sections of both public and private properties with different public access points. "You come, there's a property, then you go up 300 yards and that would be public." But go another 300 yards, "that's private. It's very fractured across." 
— Michele Ferri, president, Centre Ipperwash Community Association, which represents more than 140 area property owners.
tbridge@postmedia.com; cleon@postmedia.com
The Local Journalism Inititative is funded by the government of Canada