Curator manager Michael Elgey said lots of visitors love to get selfies with the paper daisies. "People are kneeling in them, and on the pathways, and taking the photos from below," he said.
It takes 18 months to prepare each spring paper daisy show, an increasingly popular attraction since the flowers, native to Western Australia, were first planted in 1996.
Across the garden, wattles, grevillea, native lilac and flame trees are also flowering.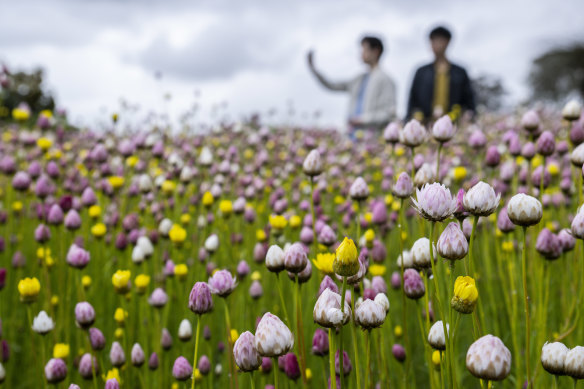 At the Blue Mountains Botanic Garden in Mount Tomah, they're blowing a bulb; more than 150,000 flowers are blooming there.
"You've got the cherry blossoms, hyacinths everywhere, 150,000 daffodils and 5500 tulips are just coming out," said a spokesperson.
In Sydney, the sweet peas are part of the largest trial of their kind in a botanic garden. Burton said the purpose was to see which do best in Australian conditions while testing a range of support structures for climbers. They also wanted to test varieties that bloom earlier than others.
As for which ones are doing best? The final results aren't in yet, but Burton says she judges the sweet peas by scent. Her vote for the best sweet pea went to Enigma, supplied by New Zealand's Dr Keith Hammett. It was also the tallest so far, with beautiful pale pink to white flowers.
Gawler Warrior by Tasmanian company Australian Sweet Pea Specialists was also growing vigorously. It has deep mauve, sweetly scented flowers. Mr Fothergrills' Harbinger was the best of the bi-colour flowers.
Australian Sweet Pea Specialist provided about half of the cultivars – short-day varieties that required only 10 hours of sunlight instead of 12 to activate flowering.
Loading
Owner Kerin-Lea Hall said these short-day cultivars would flower two to three weeks sooner than other varieties.
"It is important that sweet peas grown in warmer areas have finished flowering by the time humidity sets in," she wrote on the company's blog.
"Sweet peas will develop powdery mildew if grown in humid conditions. These are also the best varieties for cut flowers as they have stems around 30cm in length. The horticulturists were very impressed with our seeds, especially when they got 100 per cent germination."
Spring gardens putting on a blooming show
Royal Botanic Gardens in Sydney, Mount Annan and Mount Tomah
The Leura Gardens Festival runs from Saturday, October 1, to Tuesday, October 4
Floriade in Canberra continues until Sunday, October 16
Tulip Top Gardens outside Canberra is open daily
Wisteria is blooming at Muston Park in Chatswood
Pearl Beach Arboretum
EG Waterhouse National Camellia Gardens, Caringbah South
Wollongong Botanic Garden
Ku-ring-gai Wildflower Garden
A cultural guide to going out and loving your city. Sign up to our Culture Fix newsletter here.