Trade Minister Stuart Ayres signed off on a ministerial briefing identifying former senior bureaucrat Jenny West as the successful applicant for a coveted New York trade post but later told parliament that no suitable candidate had been found.
New documents released to the upper house on Tuesday reveal that Ayres, who was then investment minister, signed the brief saying "after a full recruitment process, the successful candidate is Ms Jenny West" on August 17 last year.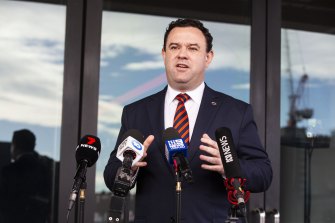 The papers have been released as part of the parliamentary inquiry into how former deputy premier John Barilaro was then appointed to the lucrative $500,000-a-year role.
Despite the August 2021 document showing Ayres signed off on West's appointment, the minister has repeatedly told parliament and the public that the first recruitment process for the New York-based trade role did not find an appropriate candidate.
"It is important to recognise that at the end of the first round of recruitment there was no suitable candidate identified," Ayres told the legislative assembly on June 22 this year.
Loading
The documents also reveal that NSW Premier Dominic Perrottet's office received the same briefing. A trail of emails shows his office received a final copy of the brief on August 13 last year and returned it as "noted" to the office of the chief executive of Investment NSW.
Perrottet has similarly maintained in his public comments that the first recruitment process for the Americas trade commissioner role did not identify a suitable candidate.
Then-premier Gladys Berejiklian and former trade minister John Barilaro also received the brief, which noted West was the recommended candidate of a selection panel that included Investment NSW boss Amy Brown and planning department head Jim Betts.