The time is 18 minus 25 on Friday. My Uber arrives in four minutes: $ 30.07 for a 6.9 mile ride. It's 12.6 degrees, but feels like 8.1, with a 60 percent chance of rain and 25,499 active COVID cases.
Fortunately, there is only one figure that matters tonight: 78.8 percent (the proportion of Victorians over the age of 16 who are fully vaccinated). Close enough to jazz.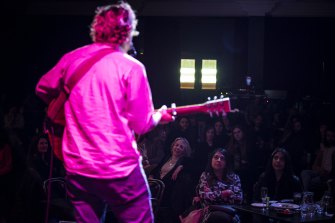 With a bang of six, in the front bar of the Charles Weston Hotel, a guy with six strings leans into the microphone like a released man. This is Hugh McGinlay's first concert in three months. The ambassador is "a love song to someone I've been through six lockdowns with".
Most diners have only one penny on his finger-picked stories of love and other human weaknesses, but the way he changes the energy in the room is free of charge. Intimate community, real time, live electricity. After each song, each stranger stops, recognizes each other, and thanks. That's right, that's one thing. That can actually be anything.
Upstairs with Wesley Anne, four musicians need the open doorway. There are drums, guitar, alto saxophone, upright bass, lots of smiley-eye and quiet laughter about things that only jazzers understand. People are getting ready and Fly me to the moon cast comforting figures, and then morph and sling themselves as the people passing by, many revealed joyfully. Wow, that's one thing too.
Bassist Stephen Hornby says he has "tried to focus on the positive" during the lockdown, instead of the two or three concerts a week he has missed. "I've written a ton of music. So watch out for 2022." With amazing panache, a waitress trips and smashes a plate loudly at the band's feet. Try downloading it from Bandcamp.
Jimmy Hornet is drunk. All lounges, lampshades and pop art, the sumptuous Richmond bar only fits 25 at the best of times, but luckily a few are late so I grab a bar stool. Owner Anthea Palmer introduces old blues guy Dan Dinnen, and then he introduces her right back. "Do not take it for granted that there are places like this," he tells us. "I can not tell you how good this feels."
It is mutual. Jimmy's audience comes to listen. Dinnens blues is more feelgood-ragtime than Mississippi moans, and drummer Anthony 'Shortie' Shortte brings extra momentum and off-mic comic relief. He's the only other guy who's heard that song before, Dinnen says, like a proud father showing off his newborn. "And I do not remember," Shortie shrugged.