As new lockdowns in Austria, the Netherlands and Germany approach, it is now a good time to celebrate some of the artists and institutions that, despite the enormous challenges they face, managed to complete effective exhibitions in 2021. Some of these, such as Lydia Ourahmanes 'Barzakh' and Simon Fujiwara 'Who Carries', refers directly to the pandemic, while others, including Renée Green's current retrospective at the KW Institute of Contemporary Art, look to the past to explore 'the weight ', according to author Pablo Larios,' of inherited language stories'.
Sissel Tolaas
Astrup Fearnley Museum
Oslo, Norway
Since the early 1990s, Sissel Tolaas has created works that used scents to evoke emotions and memories in exhibitors. In this large-scale presentation at Olsos Astrup Fearnley Museum, the Berlin-based Norwegian artist has filled seven indoor and outdoor spaces with sensory experiences ranging from enjoyable to directly antagonistic. In this way, Timotheus Vermeulen claims in his review, Tolaas has created 'what is perhaps one of the most ambitious and atmospheric exhibitions' he has ever visited.
Lydia Ourahmane
Triangle – Asterids and Kunsthalle Basel,
Marseille, France and Basel, Switzerland
When Algeria closed its borders in the spring of 2020, Lydia Ourahmane found herself trapped in Europe. Invited to stage a joint exhibition in Triangle – Astérides and Kunsthalle Basel in 2021, the artist brought her 'home' to her and transported 5,000 objects from her apartment in Algiers to Basel and then to Marseille. As Oriane Durand wrote in his review: 'By circumventing the cessation of free movement during the pandemic, Ourahmane perfectly exhibits the absurdity of laws and regulations, which often results in goods having greater rights than human beings, making' barsakh 'a form for resistance, and even empowerment. '
Renée Green
KW Department of Contemporary Art & daadgalerie
Berlin, Germany
In his review of Renée Green's 'Inevitable Distances', which runs at the KW Institute of Contemporary Art and daadgalerie until January 9, 2022, Pablo Larios looks forward to revisiting the New York-based artist's first work in time-based media, Import / Export Funk Office (1992-1993), which she made while on a daad residency in Berlin in 1993. Larios writes: 'There's something amazing about hearing Green's voice outside the camera, interviewing these cigarette smokers – mostly white Europeans – men about hip hop. Neither docile nor hostile, like a good journalist, does she let her subjects do it. '
Michaela Eichwald
Lenbachhaus,
Munich, Germany
Organized in collaboration with Kunsthalle Basel, Michaela Eichwald's solo exhibition at the Lenbachhaus – almost exclusively of new paintings and sculptures – showed why she is considered one of the most innovative artists of her generation. 'Full of observations on tabloid newspapers, pop culture and social media,'notes Sarah E. James in her profile of the artist,' these works are as confident and light in their conversations and confrontations with the genres and giants of art history as they are with their own material fantasies. '
Bea Schlingelhoff
Kunstforeningen München
Munich, Germany
Invited to show at Kunstverein München, Bea Schlingelhoff came across a document showing that the institution banned 'non-Aryan' members in 1936. As a result, the artist encouraged the institution, which was one of the meeting places of the Nazi-organized 'Degenerate Art Exhibition' in 1937, to recognize its previous participation in the Nazi regime. As Carina Buktuts wrote, 'While many buildings in the city have historical ties to the fascist regime, the Kunstverein München bore no mark of its own affiliation until Schlingelhoff installed four permanent plaques on the facade naming the only female artists included in the show "Degenerate Art": Maria Caspar-Filser, Jacoba van Heemskerck, Marg Moll and Emy Roeder. '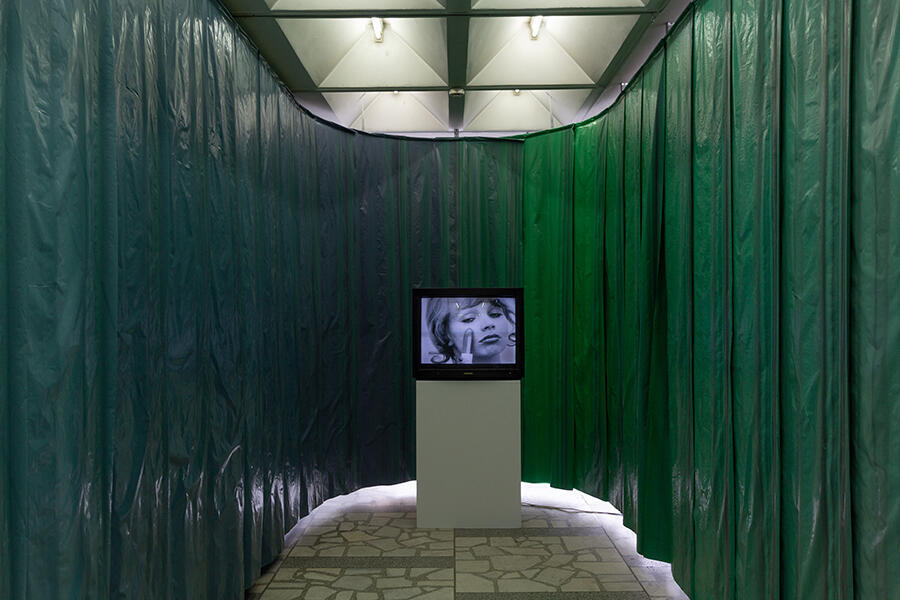 The Baltic Triennial
Different places
Vilnius, Lithuania
For this edition of the Triennial, curators Valentinas Klimašauskas and João Laia worked with the Isora x Lozuraityte studio to create an exhibition architecture that transformed the brutalist building of the Contemporary Art Center into a colorful maze. Within this framework, the duo presented a number of contemporary and historical positions that served as a clear rebuke to the wave of right-wing ideology in Eastern Europe. "By doing so," wrote Yana Foqué, "the exhibition gives us a telescopic view of complex issues that go far beyond the porous boundaries of this geopolitical region."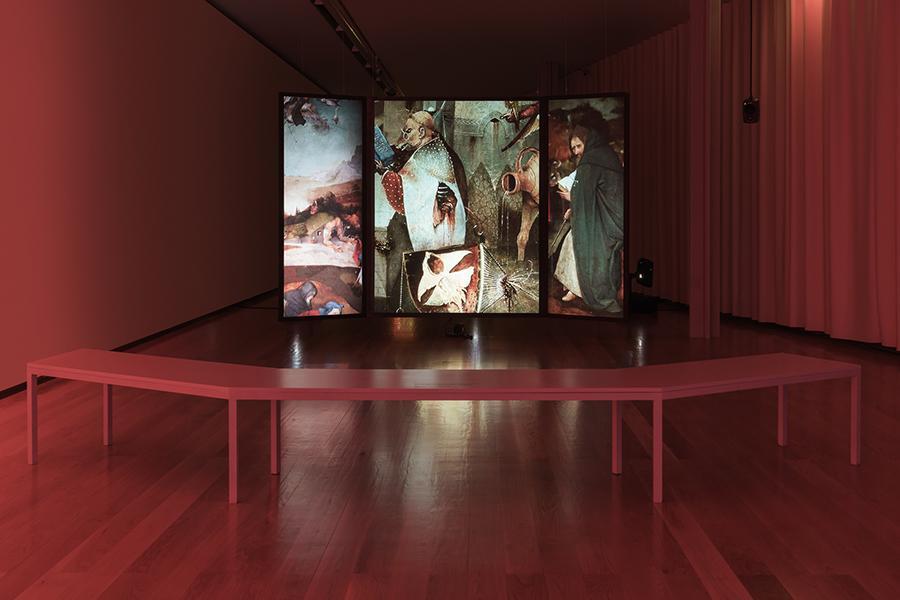 Diana Polycarp
Porto Municipal Gallery
Porto, Portugal
Entitled 'Nest of Hyphae', Diana Policarpo's solo exhibition at the Galeria Municipal do Porto offered 'a multiplex physical experience of sounds, light and esoteric knowledge', according to Cristina Sanchez-Kozyreva. Originating from the Lisbon-based artist's interest in 'ergotism', a disease that comes from eating food contaminated with ergot fungus, is the show's eye-catching piece Bosch's Have (2020), is based on The temptation of St. Anthony (ca. 1501) by Hieronymus Bosch, who, Sanchez-Kozyreva explains, 'symbolically depicted its [ergotism's] gruesome torments like trials of evil forces testing St. Anthony's devotion '.
Competing
Detachment
Vienna, Austria
Prior to Dahn Vo's solo exhibition at Secession, Tom McCarthy visited the artist in his Brandenburg courtyard and studio headquarters to celebrate the summer solstice. While the author sips champagne among the flowers, the author ponders the significance of this rural setting for an artist.famous for its reconfigurations of eclectic, culturally charged objects that put refrigerators, flags and flagellated Christ in dialogue with each other. '
Małgorzata Mirga-Tas
Arsenal Gallery
Bialystok, Poland
In many of the works in 'Out of Egypt', Małgorzata Mirga-Tas' addressed the 'critical tension', Krzysztof Kościuczuk wrote, 'between the objectification and the lived experience of Roman culture'. With a series of patchworks of patterned fabrics and wax sculptures, this intimate offer from the Polish-Roma artist was an important statement 'in a country facing a mono-ethnic crisis'.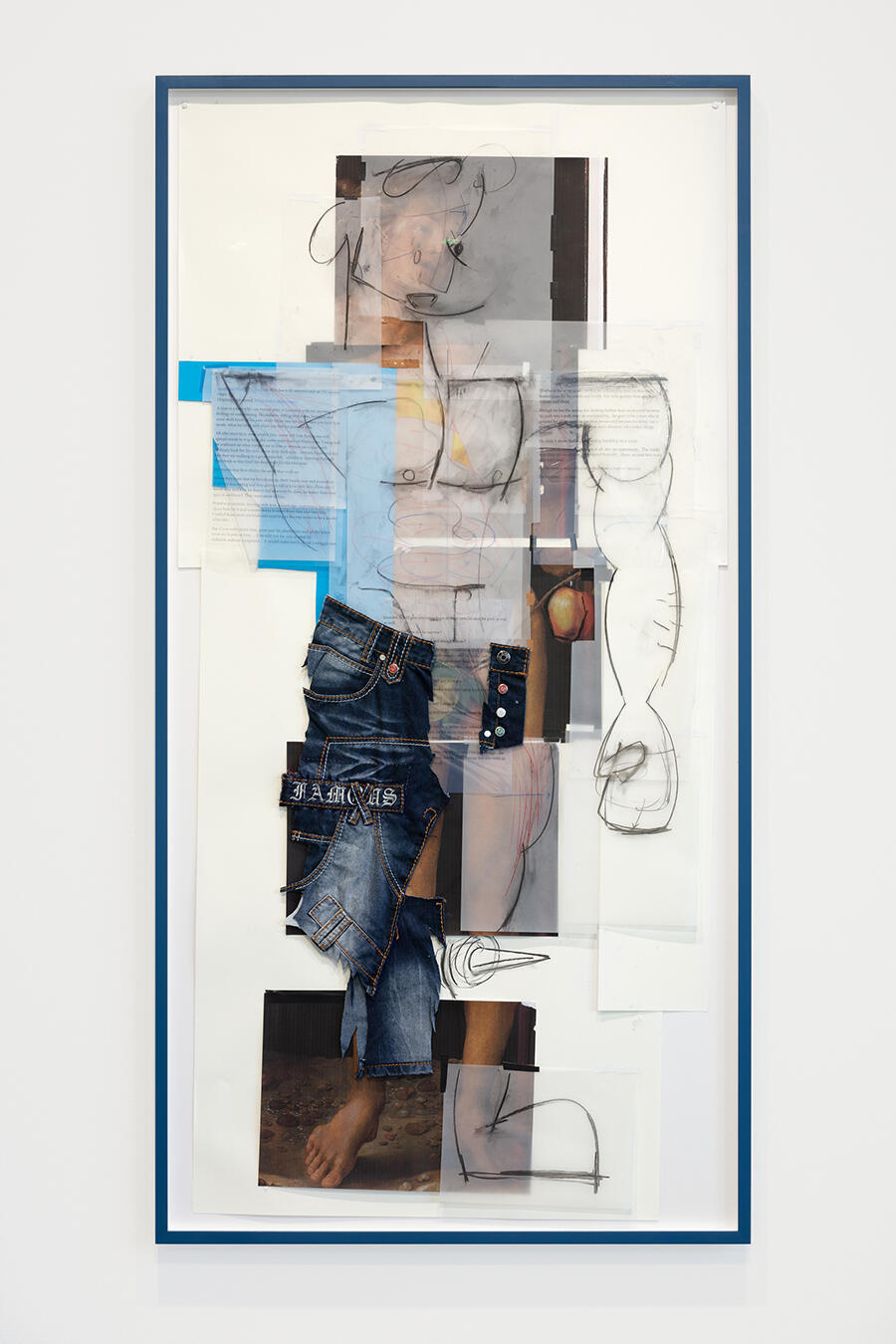 Simon Fujiwara
Prada Foundation
Milan, Italy
Consisting of a site-specific mixed media installation, " Who Bears' was Simon Fujiwara's response to one and a half year lockdowns. "Overwhelmed by a period marked by not only the pandemic but also crucial social change," wrote Ana Vulkin in her review, "the artist sought refuge in drawing and collage, combining his own original characters with photographs and news stories taken from the Internet – from Elon Musk space launch for the Black Lives Matter protests […] The result is a superbly entertaining, wildly inventive show that sees viewers embark on an adventure journey through a bear-shaped maze made of cardboard. '
Main picture: Simon Fujiwara, 'Who the Berries', 2021, exhibition showing, Fondazione Prada, Milan, Italy. Courtesy: The Artist and Fondazione Prada, Milan