Maximus Hayes was convicted of manslaughter after he stabbed 41-year-old Thomus Donaghy to death on July 27, 2020.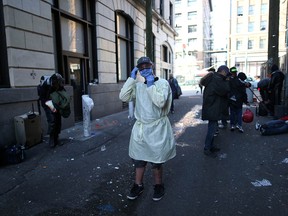 Article content
Maximus Hayes, who was convicted in the death of an overdose prevention worker in Vancouver two years ago, has been granted day parole.
Article content
The Parole Board of Canada denied Hayes, now 25, full parole but allowed him day parole on condition he return to the institution every night, not consume alcohol or drugs, and not to use more than one mobile phone. He's also forbidden to associate with known criminals and must follow a treatment plan and mental health counselling.
The Victoria man was convicted of manslaughter and is serving a one-year-and-six-month sentence for the stabbing death of  41-year-old Thomus Donaghy on July 27, 2020.
Donaghy was working at the overdose prevention site at St. Paul's Hospital when he stepped outside for a break and ended up in a fist fight with Hayes, who fatally stabbed him.
Co-workers described Donaghy as "easy going" and "happy-go-lucky" and say he had been working at overdose prevention sites for four years.
Article content
In July 2020, Hayes attended a safe injection site from which he had been banned for disruptive behaviour and uttering threats, according to the parole board decision obtained Wednesday.
At sentencing, the judge looked at mitigating factors, including a very early guilty plea, "genuine remorse," Hayes' troubled and Indigenous background and factors related to issues stemming from colonialism.
The parole board decision noted that Hayes has unresolved trauma and developed addiction.
In October 2021, Hayes engaged in a confrontation with another inmate, which included punches and kicks to the head, according to the decision, Later that month, he challenged another inmate to a fight after the inmate used a racial slur.
"You swore at officers and threatened them with a 'hard day' when you didn't get what you wanted," the parole board said.
A correctional plan report in February indicates his risk for substance abuse requires a high level of improvement.
In granting day parole, the board took into account improvements made in learning about his Indigenous culture and that he has a sincere desire to abstain from drugs.
On June 13, Hayes posted on Instagram using the hashtags "freedom" and life is good."
ticrawford@postmedia.com