More than 200 West Australians have now died with COVID-19 this year, as the state continues to grapple with surging cases.
Key points:
WA COVID-related fatalities this year have hit 203 with five more
As cases climb, St John is still running fewer ambulances
Some WA businesses say staff shortages may force them to shut
WA has recorded another 15,205 new cases of COVID-19, bringing the total number of active infections to 89,895.
Of those, 304 are in hospital, including 11 in intensive care.
Another five deaths have been recorded, bringing the total number of COVID-related fatalities in WA this year to 203.
Ambulance numbers down 15pc
With the number of people stuck in isolation with COVID-19 continuing to climb, Premier Mark McGowan said "way more" than 3,000 health staff were currently furloughed because of the virus.
He said in the ambulance service, about 40 per cent of staff were absent because of COVID.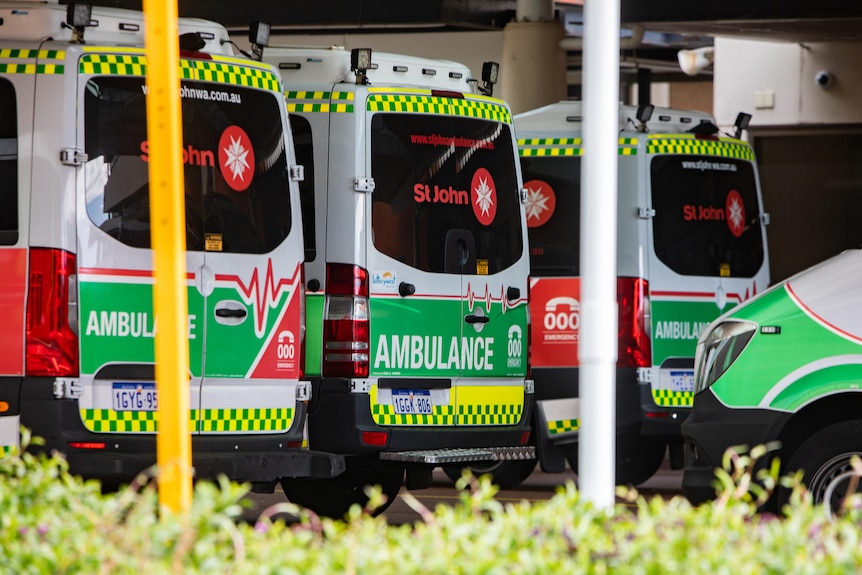 It means St John Ambulance will be running 15 per cent fewer ambulances than usual during the day today, with 69 vehicles on the road rather than 82.
"It's occurring more so among our health workforce because of the people they work with, and also because of the fact that many of them have kids at school who become COVID-positive who then bring it home."
But he said the government was doing everything it could to manage the situation, including by placing health and police staff in St John's control room and preparing firefighters to drive ambulances.
Premier assures no takeover of ambulance service
After a parliamentary inquiry into WA's ambulance service tabled its findings yesterday, Mr McGowan today committed to not bringing the service into the public sector.
One of the inquiry's 48 recommendations was that St John Ambulance be given five years to improve its service, before considering a new provider or for the government to take control.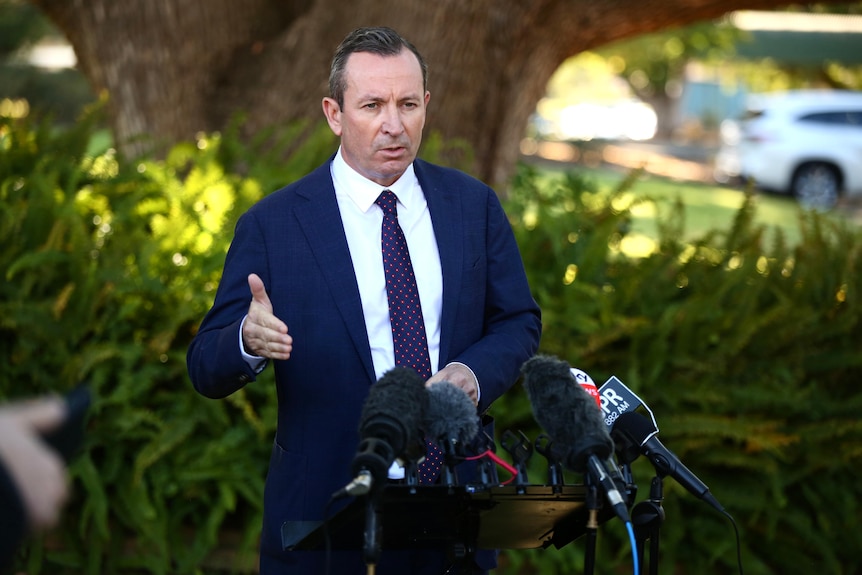 The Premier said he thought that recommendation was "reasonable".
"But monitoring and making sure there's better performance, I think, is a really, really good thing to do."
The Australian Medical Association's WA president, Mark Duncan-Smith said he was pleased and surprised by that outcome.
"I think that they suggested to continue with the St John's contract because if they didn't do that at the moment, it would have brought too much pressure to bear and too much light on the lack of capacity that the McGowan government has created in the hospital system due to neglect over the last five years," he said.
GPs adding 'pressure' to hospitals: McGowan
When asked about ambulance ramping, Mr McGowan seemed to point the finger partially at GPs.
He said doctors were pushing patients toward hospital emergency departments by putting up signs asking people with respiratory illnesses not to come in.
"I would request that GPs don't do that. I'd just ask, don't do that," he said.
"Isn't the Hippocratic Oath that you're supposed to allow anyone to come in and receive medical attention?
"So I'd just ask our GPs across the state, if people are unwell, please deal with them. Referring them to our emergency departments just puts additional pressure onto our hospitals."
'Cheeky' to suggest GPs not pulling weight, says peak body
The President of the Royal Australian College of GPs, Karen Price, was critical of Mr McGowan's comments, saying they showed a lack of understanding.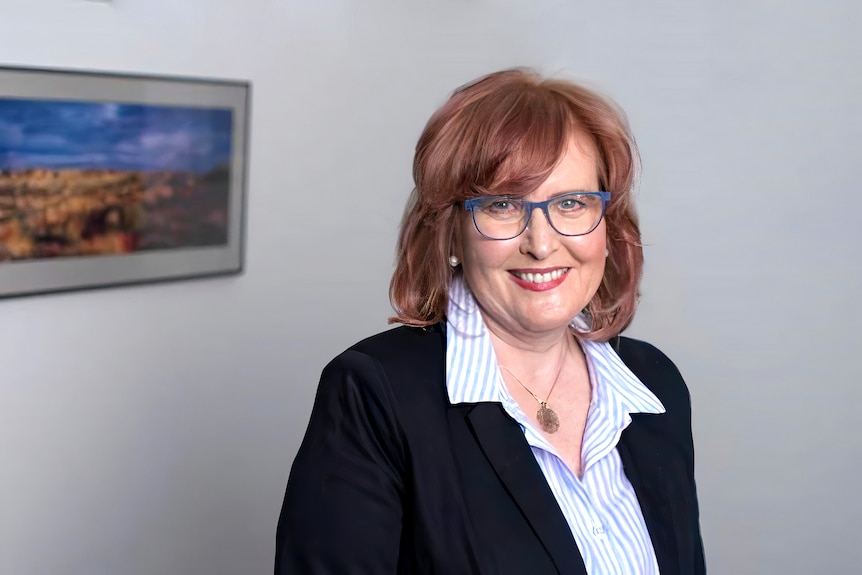 "Some general practices are not big enough to actually see respiratory patients," she said.
"If a doctor or their staff becomes unwell with COVID then the whole clinic has to often shut down if it's a small clinic, and this is particularly relevant for rural and remote regions.
"Given that GPs have done 117 million or so services in the last year, I think it's cheeky to say that GPs have not been lifting their weight."
Professor Price said GPs needed more support, and that governments of all levels needed to come together to find a way to provide that help.
Dr Duncan-Smith also leapt to the defence of GPs.
"GPs out in the community are doing a great job. GPs are keeping people out of hospital," he said.
"This is another attempt to use another scapegoat to blame for the McGowan [government's] lack of investment in capacity of the hospital system over the last five years."
Premier should stop blaming others, says opposition
Opposition Leader Mia Davies said the Premier should not be trying to blame others for issues in the health system.
"This Premier needs to accept that under his watch, for the last five years, this government has overseen a crumbling health system. They have underinvested and they are now trying to spend their way out of a crisis," she said.
"He needs to concentrate on repairing the health system instead of deflecting to other organisations."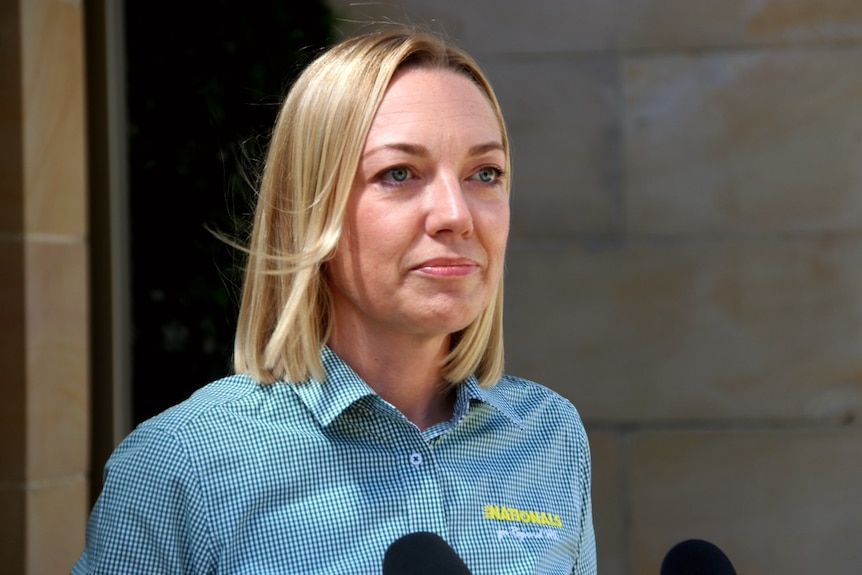 May looks set to be the worst month this year for ambulance ramping, with paramedics so far spending an average of 189 hours a day parked outside hospitals waiting to transfer patients.
That is higher than the daily rate recorded in March, when WA recorded its previous peak in ramped hours for the year.
Isolation rules relaxed to allow voting
It comes as the government made a last-minute change to the state's COVID rules ahead of tomorrow's election.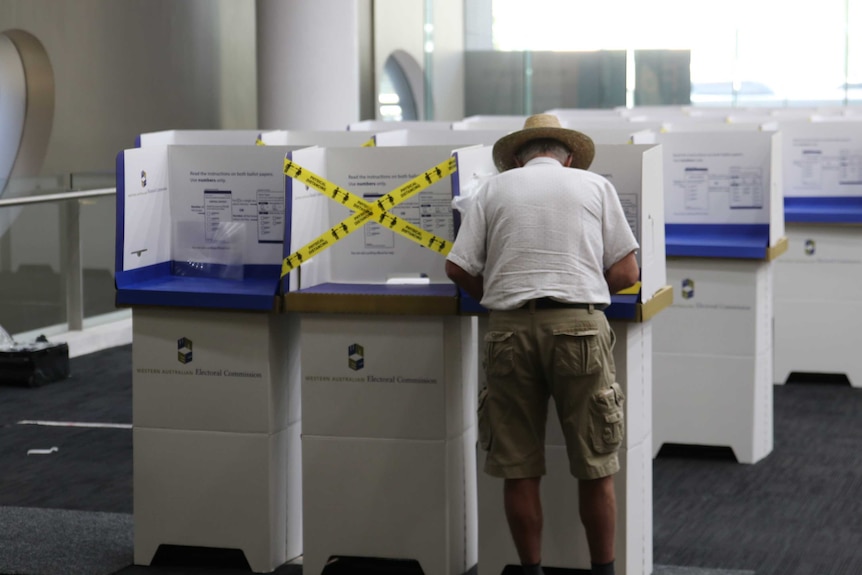 Signed by Acting Police Commissioner Col Blanch yesterday morning, the directions mean asymptomatic close contacts, who would otherwise have to stay in isolation, will be allowed out to vote. 
That's provided they wear a mask, return a negative rapid antigen test in the two hours before leaving isolation and go straight to and from their nearest polling place.
At the last count, about 24 per cent of West Australian voters had cast their ballot early.
And while the Australian Electoral Commission had been worried it would not have enough staff to operate some polling booths in WA, it said in a statement on Friday afternoon that all positions had been filled.
But Commissioner Tom Rogers warned that was not the end of the issue.
"If some of the small number of people we've lined up to work at a local voting centre withdraw on the morning of the election, we may not have back ups available in that town," he said.
"To those people working for us tomorrow, thank you for putting your hand up. Please, unless you wake up COVID-positive, come in to work to make sure that your polling place can open. 
Businesses struggling to stay open
Some WA businesses claim they may be forced to close their doors due to staffing shortages, with cases expected to peak at 25,000 in the coming weeks.
Bespoke by Barista HQ cafe in Victoria Park has faced extreme staffing pressures due to staff either contracting the virus or having to isolate.
Owner Maureen Chandwani said despite being located on one of Perth's busiest cafe and retail strips, her business was struggling to survive.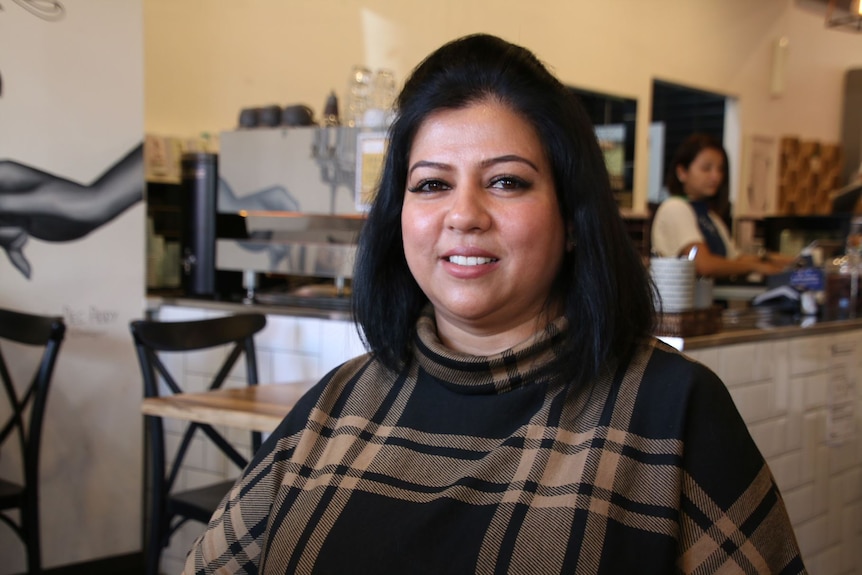 "I think nearly 70 per cent of our staff at different times have been affected by COVID," she said.
Ms Chandwani and her husband have owned the cafe and barista training centre for nearly four years and usually have 15 workers on the floor.
But with nearly 90,000 active COVID cases across the state, she said staffing her business has been almost impossible.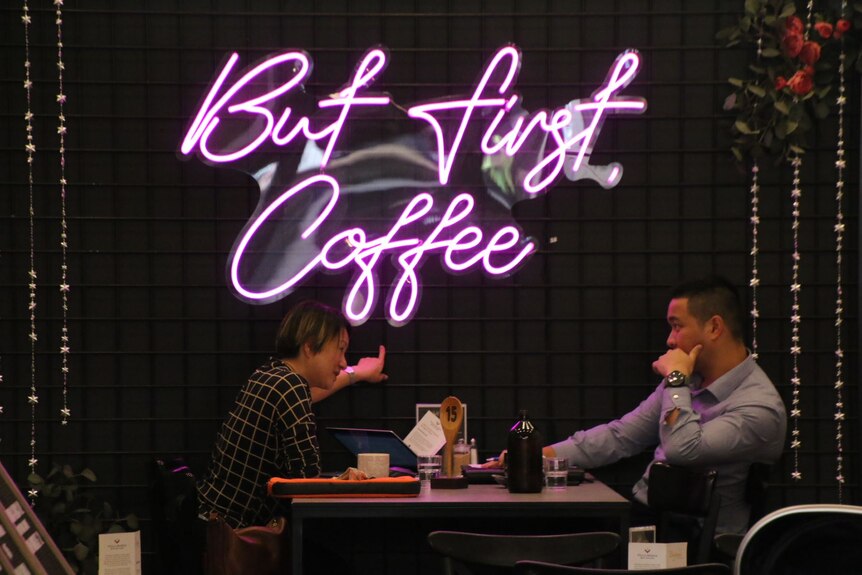 "On Mother's Day we did not advertise at all, [because] we didn't even know if we were going to be open or not," she said.
"We had no chef in the kitchen because he got COVID, we had no baristas because they got COVID. So it was just basically my husband and myself.
"Even on the weekends where we are really busy, people are waiting for their food for like 40 to 45 minutes, and that's become normal now."
Government help 'just not enough'
Ms Chandwani said the situation had left her "emotionally stressed and drained", knowing she may have no other option but to shut the doors.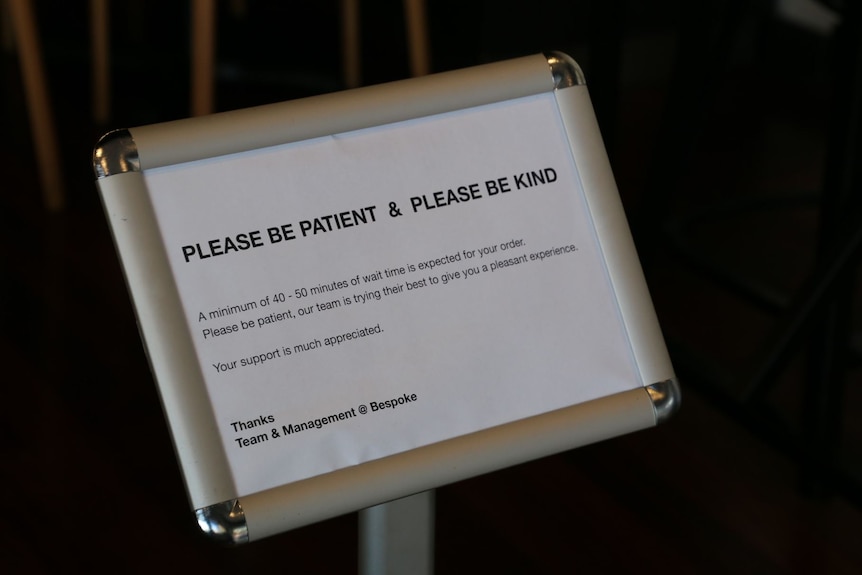 "It's very, very hard at the moment to sustain the business, to be able to pay the rent, to be able to pay the wages, because the numbers have dropped a lot," she said.
"There are government grants and stuff like that, but they're just not enough to cover all the cost. We're just trying to hold the fort and somehow move on."
Other businesses in the area have also told similar tales, with Indian restaurant Colaba Social delaying its opening by a couple of months due to understaffing.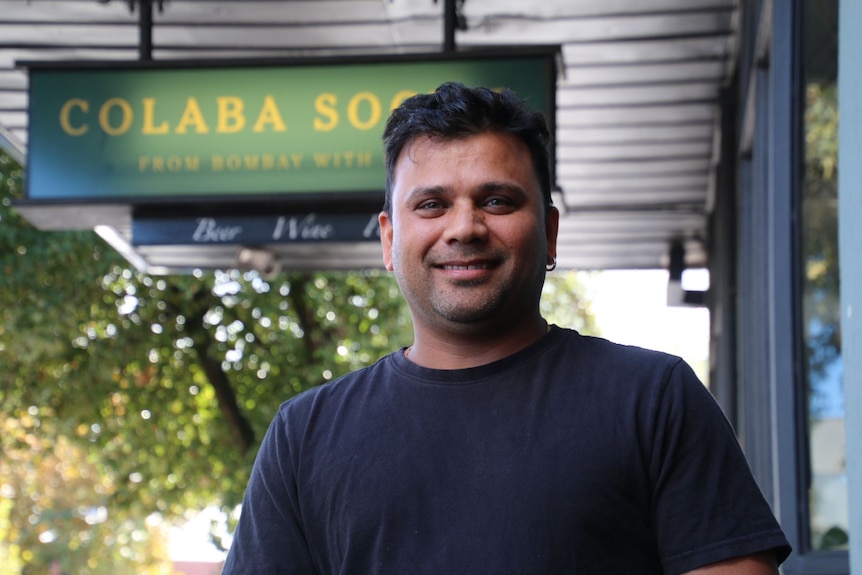 "It's picking up now since we opened and the restrictions have come down but before that, we were struggling to find the staff," chef Shyam Verma said.
"Sometimes staff get COVID and then sometimes three or four people have to isolate, which has really affected us on the busy nights as well [because] we can't provide the good customer service.
"It's very hard when we're really short of staff and everybody has like a lot of other commitments back home, like I have a family with kids so I can't be working many long hours."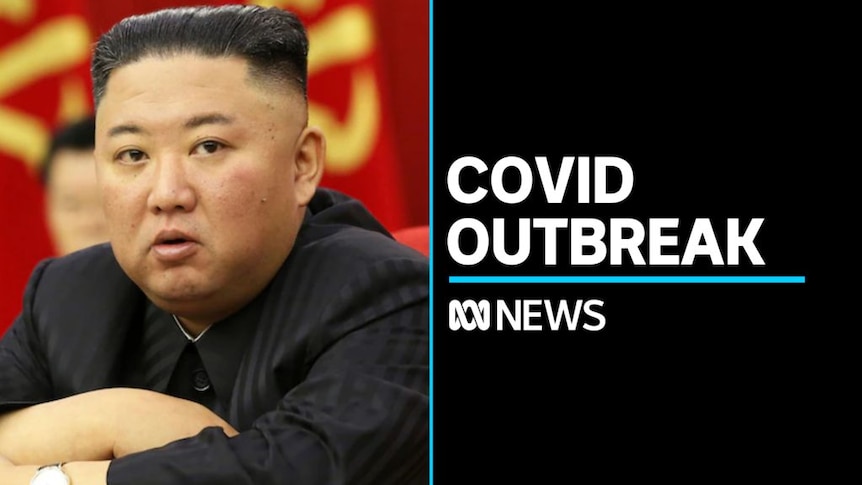 Loading form…