Sydneysiders are in for a hint of spring next week with a string of above-average temperatures, but the Bureau of Meteorology has warned the real start of the season will bring more drenching rain with above-average precipitation between August and October.
A cloudy start to the week will give way to clear skies on Tuesday, before gusty conditions bring showers and potential storms on Thursday.
"It's going to be quite a windy period, with more typical wintry weather," said the bureau's senior meteorologist Jordan Notara.
Although the latter part of the week will see wet conditions and crisp mornings, maximum temperatures are expected to be above 20 degrees three days in a row starting Wednesday for the first time since autumn.
"August will start to see that pitch towards warmer temperatures," Notara said, adding the month usually sees an average temperature of 18 degrees as opposed to July's 16.4 degrees.
After Sydney blitzed its rainfall record for July just halfway through the month, August could see drier spells. However, the bureau is expecting a wetter spring than usual.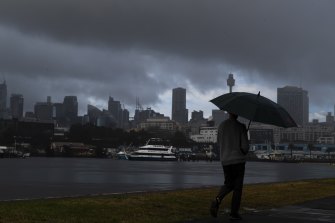 In a climate outlook update, it said there was an 80 per cent chance most of eastern Australia would see higher than average rainfall this spring due to an emerging negative Indian Ocean Dipole (IOD) event.
During a negative IOD event, the eastern Indian Ocean near Indonesia warms up, causing moist air to flow down southwards and fall as rain across Australia. IOD events usually begin in the cooler months and operate until the end of spring.