"The trauma of this (storm) event … our company is still wearing it, so it will be front and centre in our planning going forward."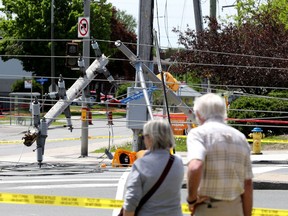 Article content
One month after a derecho storm wreaked unprecedented havoc on Ottawa's power grid, plunging thousands of residents into days of darkness, Hydro Ottawa leadership came to city council Wednesday with answers to questions they likely heard from many an aggravated resident in the wake of the weather disaster.
Article content
Why did it take so long to restore power?
It came down to the scale of the damage, Hydro Ottawa board chair Jim Durrell explained in a presentation that accompanied the utility's annual report. Even the impact of the 2018 tornadoes and ice storm of 1998 "paled in comparison" to the devastation of the May 21 storm and its probable 190-kilometres-per-hour wind, which downed 400 hydro poles locally – about the total number the city-owned company would erect in a year.
Durrell used an analogy of the municipal snow-clearing process to explain why some residents were left waiting more than a week to get their power back. Like the city's plow crews, who first deploy to major roads and transportation routes before making their way to secondary and then residential roads, Durrell said Hydro Ottawa prioritized critical infrastructures such as hospitals and water treatment plants, then focused on restoring power where it would benefit the greatest number of customers, leaving to the end fixes that would only light back up 10 to 15 houses, for example, compared to others that would restore power to hundreds.
Article content
Was it an issue of insufficient resources at Hydro's disposal?
No, Durrell concluded, pointing out that for the fifth consecutive year, Hydro Ottawa was the leader among its peers when it came to how often outages occurred locally over the past year and how long they lasted. Deploying more people beyond the 600 who worked to respond to last month's storm wouldn't have made a difference, according to Durrell. Crews were facing complex challenges, like damaged poles in backyards that required difficult and lengthy repair work.
He also dismissed concern about the use of wooden hydro poles. Hydro Ottawa uses fibreglass composite poles in certain places and a number of these were downed in the storm as well, he said.
Article content
"Wooden poles are not the problem; a storm of that magnitude will always be a problem."
As for the suggestion that the process of restoring power for some may have been affected by income, race, gender, or a like factor, Durrell said he was insulted by this line of questioning. "Nothing could be further from the truth."
Hydro Ottawa will complete a report on lessons learned from the storm and the highlights will be shared with members of council. This will include how the utility communicated with customers in its aftermath – an issue a number of councillors raised Wednesday, alongside plenty of praise and gratitude for Hydro's storm response efforts.
Innes Ward Coun. Laura Dudas challenged the utility's leadership to consider innovative ways to communicate with residents during prolonged power outages, when they may not have Internet access. While last month's weather event was a unique situation, she acknowledged, it left councillors and city resources trying to fill information gaps for customers.
Article content
Hydro Ottawa president and CEO Bryce Conrad said the company took down its outages map, which provides estimated restoration times, to avoid misleading and further upsetting customers. It usually works well but struggled under the enormity of the storm's impact, he said, and it was restored a little over a week after the storm hit.
There is room at Hydro for improvement on the communication front, Durrell acknowledged, but he pushed back on an assertion from River Ward Coun. Riley Brockington that it's an issue that predates the storm.
"If I've had any feedback ever from members of council, it was basically that you were all very satisfied with the level of communication you got under a normal circumstance," he said. "In this one, all the cards were off the table, we agree that it could be better, and we will strive to make it as good as we possibly can."
Article content
The storm also reaffirmed the importance of hardening infrastructure against the effects of climate change, which Conrad said has been a priority since the 2018 tornadoes.
"The trauma of this (storm) event … our company is still wearing it, so it will be front and centre in our planning going forward."
But council members aren't just taking Hydro's word for it. They passed a motion from Rideau-Rockcliffe Ward Coun. Rawlson King to have the mayor write to the utility's CEO requesting an action plan for better outage communications, a more efficient crisis response, faster modernization of the distribution grid and a timeline for capital investments in grid resiliency, which would be shared with the public.
As for the cost of the storm, Durrell said Hydro's current estimates put it at $25 million to $30 million.
Article content
After paying council a record $23.7 million dividend for 2021, Conrad said they've committed to a $20-million dividend, at minimum, for 2022, and council should plan to receive no more than that baseline in the absence of financial support to Hydro from the province.
However, Premier Doug Ford has committed to covering storm costs, according to Durrell. He also said that Ford called Hydro Ottawa's CEO every day after the storm hit. Ford came under fire during the election campaign for not visiting the city in the storm's aftermath. He made his first appearance in Ottawa on May 30.
"I spoke to the premier more often than I spoke to my wife during that two-week period," said Conrad.
Another concern for a number of councillors Wednesday was the absence of backup generators in some large residential buildings around the city, which left elevators out of order and, in some cases, cut off residents' water supply during the May outages.
That someone can operate a large apartment without a backup power supply is something Conrad said he was gobsmacked by.
"I find that shocking, I find that almost … borderline criminal."
Council unanimously passed a motion, brought forward by Knoxdale–Merivale Ward Coun. Keith Egli, to have staff identify regulatory changes needed to ensure more consistent use of backup generators in multi-unit residential buildings with elevators as well as at gas stations.